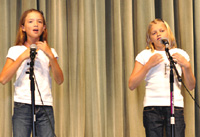 The Wellington Christian School Parent Teacher Fellowship hosted its annual all-campus variety show Friday, Oct. 28, and it was an evening to remember.
Twenty-nine students performed, displaying a wide range of talents, including singing, dancing, joke telling and guitar playing. Preparations for this event began in September when the students auditioned, honed their acts in preparation for rehearsals, and finally culminated with the big show night. Nearly 200 people from the WCS community were in attendance.
"It is a true pleasure to see our students put their God-given talents on display and to see the joy on their faces when they perform," said Headmaster Dr. Tim Sansbury, who also acted as master of ceremonies for the evening. "School activities like the variety show help to shape the whole student as they have opportunities to take risks that will build their self-confidence. We know all of our students are gifted, but we want to not only shape and develop those talents but to help them learn to put them to work in front of other people."
"This is one of those events that includes the entire school," Event Chair Alex Rodriguez said. "Faculty and staff supported the PTF with auditions, rehearsals and concession sales on the night of the event. Parent and student volunteers assisted with stage work, concessions, lighting, sound and photography. Our secondary students played a large role in not only entertainment but in the logistics needed to support such an event."
Above: Sarah Ward and Addison Piper perform.