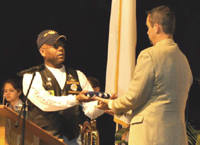 With music, prayer and inspirational words from U.S. Congressman Allen West (R-District 22), Wellington Christian School students and staff paid tribute to local military veterans Nov. 11 in the school auditorium.
The annual WCS Veterans Day festivities featured a wide array of patriotic songs and hymns performed by WCS choir and band members in an effort to remember the heroic sacrifice made by the more than three dozen servicemen and women in attendance.
WCS Headmaster Dr. Timothy Sansbury began the celebration by posing a simple question to students ranging from kindergarten through 12th grade: "What is Veterans Day for?" Sansbury explained to the students that Veterans Day celebrates the sacrifices of the servicemen and women, not war itself.
"Today we honor the veterans who made a great sacrifice for our country," Sansbury said. "We celebrate that our God brings good even out of events as awful as war, knowing that he will work good out of all that happens, and one day, he will bring peace that lasts forever."
Wellington Presbyterian Church Pastor Dr. Eric Molicki led the assembly with a prayer of gratitude to God for those who serve in the armed forces.
West — who also attended the event last year — reminded the children of the day's true meaning with a highly spiritual message.
West, a retired U.S. Army lieutenant colonel who comes from four generations of military service, flipped over the dog tag he was wearing and quoted Psalm 144:1: "Blessed be the Lord, my rock, who trains my hands for war, and my fingers for battle." West went on to explain to the children how the veterans present had given fully of themselves to protect the freedoms cherished by this country since its foundation more than 200 years ago.
When he was done speaking, West presented Sansbury an American flag which flew over the nation's Capitol.
Sansbury then introduced each of the veterans in attendance, who sat on stage with West. Among those honored were three veterans from World War II —Raymond Harvey, John Magazzu and Weems Jones — along with many others who served in Korea, Vietnam, the Persian Gulf, Iraq and Afghanistan, and who included WCS alumni, teachers, parents, grandparents and extended family members.
The entire gathering of veterans received a standing ovation from the crowd after their introductions by Sansbury.
The elementary school students added another poignant moment to the festivities with a medley of ballads, which featured a chorus dedicated to each branch of the military: Army, Navy, Air Force, Marines and Coast Guard.
Above: Congressman Allen West with WCS Headmaster Timothy Sansbury.