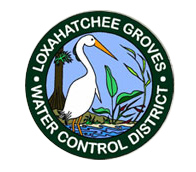 A staff update Monday on the paving of several Loxahatchee Groves Water Control District road segments led to comments from some residents that speed bumps are being installed inconsistently, too close together and are a liability for fire-rescue vehicles.
The comments led supervisors to defend the humps as a deterrent to speeders and reckless drivers who have wound up in canals along A, C and D roads, where the construction projects are underway.
LGWCD Administrator Clete Saunier said the open graded emulsified mix (OGEM) paving project should be substantially complete by March 28.
Construction on South C Road and Collecting Canal Road is 90 percent complete; North C Road and North Road are 85 percent complete. Remaining work includes corrections on some of the speed humps, traffic signs and painting. Construction on North A Road is only 20 percent complete, Saunier said.
Supervisor John Ryan said he drove down Collecting Canal Road where workers were finishing portions of the project and installing the speed bumps.
"They worked very well," Ryan said. "I took one at 15 and there was no problem, and another at 20 and it was fine."
But resident Todd McLendon said he felt that a driver should be able to go 30 mph if that is the speed limit.
"You should be able to safely go from one end to the other at 30 miles per hour," McLendon said. "There's no vehicle that can cross those bumps safely at 30 mph."
He said that at the last LGWCD meeting when he had complained, there appeared to be at least three supervisors who agreed to look into it. "We're continuing down this path anyway, knowing that we have a problem with these speed humps," McLendon said.
McLendon said some residents on North Road must cross more than 20 bumps to get onto Okeechobee Blvd., adding that he had been told at earlier meetings that the speed bumps would not be as obtrusive as those on F Road installed by Palm Beach County.
"It's not fair to force this on us," he said. "When I signed up for the OGEM, it was to not get speed bumps like F Road. That's what we're getting, and you guys are allowing this to happen."
Resident Robyn Brow complained that the bumps are not consistent. "There are 22 speed bumps that are done in 22 different shapes," she said. "I have to go down 21 of them in and out every day."
Resident Cassie Suchy said she thinks speed bumps create delays for emergency vehicles. "I have heard that it will reduce the number of accidents caused by speeders, but have you done a study to substantiate the need for an excessive amount of traffic-calming devices on these roads?" Suchy asked.
She added that she had done her own study, which showed that in 2011 there were about 30 accidents in Loxahatchee Groves, and that most were not attributed to speed as a primary or secondary cause.
Loxahatchee Groves Councilman Ron Jarriel pointed out that all the roads being paved have canals alongside them and that the speed bumps will help hold traffic speed down to reduce the chances of vehicles winding up submerged.
Jarriel, a retired fire-rescue driver, said one of the engine companies was called out to check the new speed humps on C Road and that they found no problem.
"They said if they've got to ride over the pavement and speed humps, they'd take that over the dust and the dirt roads any day of the week," Jarriel said, pointing out that during the dry season, a responding unit in back cannot see the unit in front due to the dust. "They don't know whether they're stopped or whether they're proceeding, so it's very dangerous."
Riding in his Ford Escape with the cruise control set at 25, Jarriel said he timed the distance from Collecting Canal to Okeechobee Blvd. on one of the newly paved roads.
"That might be a little rough for some trucks and trailers, but it took less than three minutes to get from Collecting Canal to Okeechobee Blvd.," Jarriel said, adding that distances in Loxahatchee Groves are relatively short and do not pose a serious threat to emergency vehicles.
Jarriel said that his answer to people who complain that they cannot do 30 mph on the roads is that the speed humps are designed so drivers cannot exceed 30 mph. "These speed humps serve a purpose," he said, noting that no cars have gone into the canal on F Road since the bumps were put in.
Ryan emphasized that the roads where the bumps are being installed have canals alongside that are hazards. He added that Saunier had worked with the engineering firm and contractor to develop a template to assure that the bumps are consistent.
Ryan said the board and staff had done much research to find the best combination of speed bump height and distance apart.
"We made our decision based on the shape and length and height of the speed tables based on our engineering firm's design," he said.
Loxahatchee Groves has seen numerous accidents and deaths, Ryan noted.
"I think we're going to have to try and have some experience with these roads and the speed tables and just get used to them, and make a different decision if it appears that unforeseen consequences are really different than we'd hoped," he said.
Ryan added that the purpose of the paving was to make roads safer, not just reduce dust.
"We cannot afford guardrails. They're prohibitively expensive," he said. "So, looking at the kind of risks that we face, and trying to discourage some of the excess traffic that we have as a cut-through, are the reasons that we made the decisions that we have."