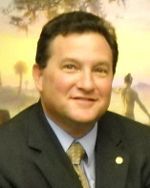 Now that the Florida Supreme Court has finalized the new maps for the Florida House of Representatives, State Rep. Mark Pafford (D-District 88) expects to run for re-election in a district that includes a larger share of the western communities.
Pafford said he is glad to see most of the revisions to his new district, now designated as District 86. "It would appear that I'm going to lose certain portions of Greenacres, [and] I really like Greenacres," he said. "I'll also lose some of my northern areas, 45th Street and Haverhill."
The bulk of the district will be made up of Royal Palm Beach, Loxahatchee Groves and Wellington — and that's just fine for Pafford, a former Acreage, Royal Palm Beach and Wellington resident who is now living in an unincorporated portion on the eastern edge of the new district.
This gives him a deep understanding of the local issues, he said. "I'm pretty pleased," Pafford said. "I think everybody is just waiting to see what the Senate maps will be."
The Florida Supreme Court was not as kind to the State Senate maps. Those were sent back to the legislature to be redrawn.
Pafford was home earlier this week after the legislature ended its regular session but quickly headed back to Tallahassee for the March 14-28 special session on the State Senate redistricting.
Pafford said he's glad to see most of the western communities in one district. Wellington and Royal Palm Beach had been divided between districts 88 and 85.
The redrawn district puts Pafford and State Rep. Joseph Abruzzo (D-District 85) in the same district, but Abruzzo has said he plans to run for a newly created Democratic-leaning State Senate district covering most of the western communities, assuming that district is not dramatically redrawn in the current special session.
Pafford said he introduced bills this session that would have reversed actions by the Republican-dominated legislature that he did not agree with, but none made it out of committee.
"One would have changed the elections process back to what it was before the voter suppression activity," he said. "The Republicans passed a measure that makes it more difficult for people to vote. It changed the early voting, and it basically put a penalty on the third-party registration groups like the League of Women Voters and the Boy Scouts."
It also makes it harder for college students and women who have had their last names changed to change their voting information at the polling place.
"It forced them to vote basically by a provisional ballot, which 50 percent of the time is thrown out," Pafford said. "My bill would have corrected all that."
Pafford said he got behind causes that he felt made sense. "Unfortunately, the Republican-controlled legislature doesn't want to hear those types of things," he said.
Pafford, who is the Democrats' deputy whip, said representing the minority is difficult but that the last week of the regular session was particularly stressful. "In the last week and the last day of session, they force you to vote on things you've never even seen," he said. "You have to go with your gut and your common sense, and if you don't have time to read it, you just err to caution and vote 'no.'"
Most consequential votes come down to party lines, and in Tallahassee, Republicans rule.
"It's a super-majority that basically gets whatever they want anyway at the end of the day, so you fight as hard as you can, and when you win a few victories, which we did this year, you really savor those moments," Pafford said. "You also learn to value your role in fighting for common sense, fighting for the everyday person in Florida, and that brings some sort of justification for what you do."
Redistricting will not come close to restoring party balance in the legislature, Pafford said, although he thinks it will bring it closer.
"The Democrats are not going to take back the Senate. They're not going to take back the House," Pafford said. "I think you will find chambers with more minority members and fewer majority members, but that's OK. I think when you're in … a super minority, you're under that 30 percent, you're at a great disadvantage because of the rules. When you've got two-thirds of the people just basically voting in line, there's no independent thinking going on. When you have more than 30 percent as a minority, you begin to become relevant, especially on bills that require two-thirds to pass."
Pafford said he thinks the redistricting will reduce Republicans' control to some degree. "That's a good thing for Florida," he said. "That suggests you're going to be spoken to as a person with ideas as opposed to someone you just need to vote against to move to the next bill."