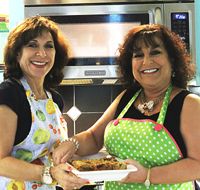 Ilene Adams and Sandy Axelrod of Wellington have launched their new venture, Alice B. Tookus Baking Company, available online at www.alicebtookusbakingcompany.com. The company will feature cookies, brownies, blondies, cakes, pies, cupcakes and more temptations to fulfill your every craving for sweets.
Adams and Axelrod are two friends, two artists and two women dedicated to creating fabulous baked goods and meals for friends and family. Both women are entrepreneurs and have owned their own businesses most of their lives. They started this business because they wanted to work together, follow their passions and have fun.
For months they talked about it but just couldn't seem to come up with the right project. Then one day, as they were discussing brownies, Adams mentioned that she had the recipe for the infamous Alice B. Toklas brownies. That was the "aha moment." They decided that should bake together. Jokingly, Alice B. Toklas became Alice B. Tookus because, as Axelrod said, "it took us so long to come up with the idea, and also because if we eat too much of our own baked goods, it will go right to our tuchuses!"
"Almost everyone loves desserts, so we felt there was a niche for outrageously fabulous baked goods that could be ordered online and delivered locally or via priority mail," said Adams, who has a background in marketing.
Alice B. Tookus offers a wide variety of temptations baked with all-natural ingredients and a broad selection. The company also offer gluten-free and sugar-free options on request. Many of the sweets are recipes that have been in Adams' and Axelrod's families for generations.
Whether you are ordering a dozen cookies or an array of desserts for a gala, these amazing treats will have you coming back for more, Adams and Axelrod noted. For the corporate client, Alice B.'s old-fashioned sugar cookies can be ordered with a custom edible logo or for a special event such as a wedding, an edible image of the wedding couple or the bar mitzvah boy.
Look for the cookie of the month and special holiday offerings, too.