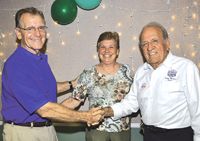 Incumbent Mayor Matty Mattioli won another two-year term Tuesday, defeating challenger Felicia Matula. Mattioli took 997 votes (60 percent) to 672 (40 percent) for Matula.
In the election to fill a vacant council seat, Madison Green Master Homeowners' Association President Jeff Hmara easily claimed the position.
Hmara garnered 1,049 votes (65 percent) to 493 votes (30 percent) for community activist Selena Smith. Ken DeLaTorre, who withdrew from the race last week, received 77 votes (5 percent).
Mattioli, who has been on the council for 18 years, two as mayor, said he intends to stick by his campaign promise not to raise the tax rate. The village has lowered its tax rate or held the rate steady for the past 17 consecutive years.
"It's exhilarating and gratifying to know that people still have the confidence in me to vote for me and give me another two years," he said. "As I promised in my campaign, I would do my damnedest, and let other people know that I am not in favor of raising taxes, with the reserve that we have, and to keep things on the steady track that we're on."
Mattioli said he is hoping that property values will rebound by 2 or 3 percent, which would give the village room to pass a balanced budget without tapping into the reserve.
He looks forward to seeing the grocery store chain Aldi build a 500,000-square-foot distribution center in the village near the Regal Cinemas and hopes that the future employees there will all be village residents.
Mattioli also looks forward to the completion of the State Road 7 extension. "Those are things that I have been involved with over the years and getting close to being a reality, and I just don't want to let it go," he said.
Regarding the newly elected council member, Mattioli said people have asked him about Hmara, but the two did not meet until recently.
"We went on the campaign trail, and he seems to have a lot of management experience from his military years," Mattioli said. "How that will equate into a little town like Royal Palm Beach remains to be seen."
Mattioli said he thought Hmara had worked very hard in his campaign and garnered strong backing.
Hmara, who was a colonel in the U.S. Army dealing with weapons acquisitions, and was an executive with private firms after he retired, said he feels he can put his experience to good use with the village. He campaigned on that experience, as well as his time as a college professor teaching leadership and economics courses at Palm Beach Atlantic University, and, of course, his work in Madison Green.
"I think, especially with the percentage of the vote that I got, that message was well received," Hmara said. "Now my challenge is to make good on that expectation that I can make a positive difference in the community in some of the key areas, not the least of which is having really effective communications between the residents and the council and the staff. I think I have the qualifications that will make that really effective."
Hmara said he plans to continue to walk neighborhoods as he did during his campaign to get feedback from residents. "That was very informative in a unique way, being able to talk to individuals," he said.
On Wednesday, Hmara met with Village Manager Ray Liggins for four hours, despite being fatigued from campaigning, and found their conversation invigorating. "I got some additional insight not only for the agenda tomorrow, but for more substantial issues that we're going to be dealing with, such as the budget for 2013," he said.
Hmara said he liked the structured approach Liggins takes to many of the issues to be addressed. "I think that's going to pay off not just in the budget, but also in a way to make sure that all of the resources that we have available to us to provide services will be most effectively used," he said.
Hmara, who is also an engineer, said he thought that background helped him communicate effectively with Liggins, the former village engineer.
It's good to be a winner — but also exhausting, Hmara said. "I'm delighted at the outcome, but toward the end of a campaign like this, one begins to really get kind of tired," he said.
However, that fatigue was offset by the strong showing of support by his constituency. "I wasn't the only one who hung in there right to the finish line," Hmara said. "I can't tell you how good that feels to have people around you who support you right through to the very end."