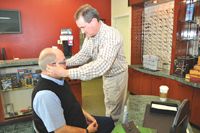 BY DENISE FLEISCHMAN
Ewing Optical in Royal Palm Beach is one of a limited number of optical establishments offering the new emPower eyewear line.
EmPower is the first electronic-focusing eyewear. It is dubbed by its creators as the biggest optical advance in more than 50 years.
Ewing Optical client Ray Pasquale picked up a pair Thursday, March 8. Ewing is the only emPower retailer in the western communities.
EmPower uses advanced electronics to instantly adjust as vision needs change. "Almost anyone with a need for multi-focal lenses can wear it," Ewing Optical owner Bobby Ewing said. "A standard eye exam is all that's needed."
EmPower was developed by Pixel Optics and Panasonic. It comes with glasses in a case, a charger in a case, a power source for the charger (which plugs into the wall), and a non-adapt policy and warranty. Each of the lenses features a virtually invisible layer of liquid crystals that instantly adjusts and provides a near-focus (reading) zone.
"In regular progressive lenses there are three ranges of vision distance, intermediate and reading. With emPower, there is distance and intermediate available, and then the reading range gets turned on when necessary," said Ewing Optical's Denise Waller. "The cost is $1,500, which is only a little more than two pairs of glasses."
In Manual mode, a touch of the temple triggers the near-focus zone, while another touch turns it off. A swipe of the temple activates the Automatic mode, so the near-focus zone turns on and off in response to up-and-down head movements.
When the glasses aren't being worn, they will go into sleep mode when turned upside down. They will charge overnight in the custom charging unit.
EmPower not only gives patients control over their vision, it also provides wider fields of view and less distortion than progressive lenses.
"I am an electronics guru," Pasquale said. "I like being first to try new things. What's nice about these glasses is I only need to carry one pair. I don't have to carry multiple pairs like bifocals and distance glasses."
Pasquale said there is no "wavy sensation" when he tilts his head down when going up steps because he has distance only turned on.
"These glasses are the coolest, and I love them," he said. "I am enormously thrilled with my investment in these glasses. The convenience of having one pair of glasses instead of two is worth the increased price."
Ewing Optical is located at 11388 Okeechobee Blvd. in Royal Palm Beach. For more information, call (561) 798-0244 or visit www.ewingoptical.com.