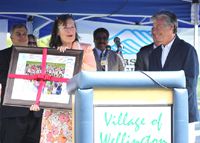 With the turning of dirt, officials broke ground Tuesday for what will soon be the Neil S. Hirsch Family Boys & Girls Club in Wellington.
"Today is just the beginning," said Mary O'Connor, president and CEO of the Boys & Girls Clubs of Palm Beach County. "The beginning of not putting kids on waiting lists. Kids don't wait, they just grow up — and kids growing up alone, afraid and at risk is unacceptable."
The 22,750-square-foot facility located at the northwest corner of Wellington's water treatment plant property at 1080 Wellington Trace is to be completed by October 2013.
O'Connor thanked those in attendance, many longtime supporters of the club. She said that Wellington helped shape the club's identity in Palm Beach County. "Twenty-five years ago, we had one club in Palm Beach County," O'Connor recalled, "and it was a boys club."
But local residents saw a need to reach more children, she said. "If it were not for Wellington, we might still have one club in Palm Beach County," O'Connor said. "With the addition of Wellington, we had new people with new ideas and new energy. Not only did we open this as a Boys & Girls Club… we started to ask questions like, 'If the need is so great, why are we only doing it in two places?'"
Now, the Boys & Girls Clubs of Palm Beach County supports 13 clubs and four extensions, serving 6,000 children each year.
Still, there are many more children in need of a place to go after school, O'Connor said.
"Here in Wellington, over the last couple of years, we've started to look at how many kids we were turning away," she said. "In Wellington, we turned away more kids than any other location in Palm Beach County."
So began the dream for a bigger, updated location that could reach more children. The club worked to raise cash for years, netting about $1 million in private donations. Meanwhile, Wellington promised $700,000 and Palm Beach County kicked in $600,000.
Wellington also pledged to cover the $1.3 million financing gap in the form of a loan. But earlier this month, the nonprofit received a $1.5 million donation from equestrian leader Neil Hirsch.
"He was one of the major donors when we started this journey years ago," O'Connor said of Hirsch. "He understands that while his children and his family will never need the Boys & Girls Club, a lot of families do."
Hirsch, who was given a standing ovation by the crowd, said that he shared O'Connor's dream of a bigger and more modern facility for the children of Wellington.
"I visited the club on several occasions," he said. "Even though it was affectionately referred to as the 'runt' of the Boys & Girls Clubs, I was able to see what a lifesaver it was for all the kids of this community."
He said it was a natural decision to help.
"I'm very grateful to be here today at this groundbreaking," Hirsch said. "I'm very grateful to be in a position to help their dream come true."
The crowd also got a surprise Tuesday when O'Connor announced that equestrian activist Victoria McCullough had pledged an additional $200,000 to the facility.
Wellington Mayor Bob Margolis recalled a coach he had when he was in the Police Athletic League in his youth.
"As a young kid growing up, I was a pretty shy young man who really needed someone to just give me confidence," he said. "I remember what he said to me: 'You can never lose if you never stop trying.' I think this is a testament to the Boys & Girls Club. They never stopped trying to make this facility a reality."
O'Connor said that the club will be particularly important in reaching out to teenagers.
"This is the first time that we can really concentrate on teenagers," she said. "We can help them succeed. We can keep them in school, and we can help them graduate."
The new facility will have a science lab, computer lab and learning center in addition to recreational facilities. The club now serves about 450 Wellington kids.
"Forty-four percent of those kids live in a home that has an annual income of less than $38,000 in a community where the average income is about $94,000," O'Connor said. "These families need our help. For some of them, their only choice might be to let their children go home alone after school."
But the new facility will help make sure more children have guidance as they grow up.
"It will be a beautiful thing," she said. "Don't ask me what the Boys & Girls Club means to these children. Ask an alumnus. Ask the doctors, lawyers and other stand-up, responsible citizens in this community who went through this club. They will tell you, 'I don't know where I would be today if not for the Boys & Girls Club.'"