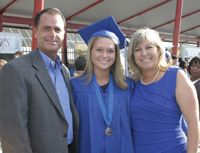 Wellington High School sent 520 members of the Class of 2012 out into the world at commencement exercises Monday at the South Florida Fairgrounds.
Principal Mario Crocetti presided over the event, advising graduates to make their mark in the world, sizing up and overcoming obstacles before them.
"Don't overestimate the size and strength of the obstacles in front of you," he said. "Take on the challenge, and you can create the future. Just stay hungry, seize the day, and never, never give up."
Student Government Association President Jenna Baxter credited the teachers who inspired them to do their best.
"As we begin the next chapter of our lives, it is our turn," she said. "As past generations have had inspiration for us today and brought us to where we are now, it is our turn to inspire others. Learn and grow while you can, serve and befriend all you can, enrich and inspire all you can. Congratulations, Class of 2012, it is our turn to move mountains."
Salutatorian Debra Marcus stressed the importance of high school experiences.
"They say the best is yet to come," Marcus said. "They say the next years will be better than we can imagine. They say our lives are just now beginning, but I have a hard time discounting all of high school so quickly. It isn't just a steppingstone that we cross on our way to the real world. It has been an incubator of self-discovery. We are all very different people from where we were as freshmen. We have figured out what we prefer — Beethoven or dubstep, Toms or Birkenstocks, Edward or Jacob — and some of us have even learned to do our own laundry."
Marcus said high school is unique because for the past four years, the new graduates have been both children and young adults simultaneously.
"Many things change in high school," she said. "We start to drive, and we hold jobs. Our teachers begin to treat us like adults, even though we still need passes to go to the bathroom. High school is a transition, but without it, we wouldn't know who we are. We wouldn't know how to be the adults we are becoming."
Marcus urged her classmates to remember where they came from as they head out in different directions.
"We can never change the high school we graduated from or the people we graduated with," she said, "and I am proud beyond words to count myself among the Wellington High School Class of 2012."
The WHS Class of 2012 had co-valedictorians, twins Crystal and Felicia Yan, who had identical grade point averages.
Crystal Yan noted that in the 1950s, Walt Disney had an idea for an attraction, but that technology was not yet up to the concept.
"It wasn't until over decade later that Disney premiered the show at the 1964 World's Fair," she said.
The Carousel of Progress eventually found its way to Walt Disney World's Magic Kingdom in 1975. Throughout its run, changes have been made. "New voices were cast and cosmetic alterations were made," Crystal said.
Advances in robotics have developed, including the mechanical dog in one of the scenes. When the Carousel of Progress was last modernized in 1994, it was long overdue for an update. "To me, that sounds like an open invitation from the past, specifically for our class to make the future," she said. "It is time for us to make our mark on history. Up until now we have sat back and enjoyed the show. High school was our dress rehearsal, we were the understudies; but now it's showtime."
Felicia Yan said she hoped everyone's high school years had been memorable. "Now, it is time for us to direct ourselves to the unforeseeable future," she said. "We are on the verge of a new beginning in our lives. As we go on to college, the work force or the military, we will undoubtedly befriend new people, travel to new places and try new things."
Although there is uncertainty in the future, Felicia said she had no doubt that Wellington High School's Class of 2012 would become an extraordinary group of people. She said one of the most important things she learned in school was during performances on stage. "You can't return to it for a do-over," she said. "You only live once."
She also learned to "stay hungry" and continually seek improvement.
"If Steve Jobs had been satisfied after inventing one of the first consumer computers, he would not have gone on to become one of the greatest geniuses of our time," Felicia noted.
Above all, she advised her classmates, "Don't be too hard on yourself. Treat yourself fairly, and don't underestimate yourself. Self-respect makes for confidence and humility, and that's the winning combination."