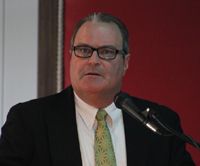 Members of the Wellington Chamber of Commerce learned about several important changes to Wellington's medical community at a luncheon Wednesday, May 23 at the Wanderers Club.
Wellington Regional Medical Center CEO Jerel Humphrey detailed the hospital's upcoming expansion, while Wellington Principal Planner Bill Nemser discussed the proposed medical arts district.
"Wellington Regional Medical Center has grown as the community has grown," Humphrey said.
He noted that the emergency room recently saw a record 158 patients in one day. "Typically we get about 100 visits a day," he said. "That's a record for us."
Increases in ER patients have typically meant that other patients must wait for a bed. "We simply don't have the space," Humphrey said.
But all that will change this fall when the hospital completes its $50 million, 100,000-square-foot expansion tower.
"It should be ready this coming October," Humphrey said. "It's moving very quickly, and we're very excited."
The expansion will bring the hospital 80 more beds for a total of 233 licensed beds. "It's going to be a beautifully designed three-story building," Humphrey said.
More important is that the facility will offer new, state-of-the-art technology as well as more space for patients.
"It's designed to meet the needs of our patients and their families," he said. "It will have the most advanced healthcare technology to date, in addition to state-of-the-art equipment."
Even the lobby and reception area will get a new face, Humphrey said. "You'll notice the transformation as soon as you walk in," he said.
All of this will enable the hospital to better care for its patients.
"Working with our stellar ER physicians, we'll be able to meet more demand," Humphrey said. "The additional bed capacity will help alleviate congestion of an already busy emergency room. We'll be able to transfer patients to private rooms in a more expeditious fashion for their benefit and comfort."
The hospital is one key component to Wellington's future as a medical hub. Nemser explained that Wellington proposed the medical arts district idea as a way to invest in the future of the community.
"We're hoping to develop this strictly by having private investment," he said. "We will oversee the project and help in any way we can through things like master planning and expedited permitting. We will be providing the vision and leadership."
The 210 acres located north of the hospital and south of the Black Diamond community could soon be the health and wellness hub of the area.
Nemser explained that because only a few property owners were involved, it was easier to get everyone on board.
"It presented a really neat opportunity for us," he said. "Usually for a project of this size, you are dealing with hundreds of owners."
The district will focus on medical-related businesses, all accessed with interior roads.
"What we've designed is a plan that allows for internal capture between all these properties," he said. "It would allow someone to go from one end of the medical arts district [to the other] without having to get on State Road 7."
And because all the property uses are medical-related, it makes zoning and other processes easier. "You know what belongs there and what doesn't," he said.
Already the Wellington Reserve, located at the north end of the proposed district, has filed to change its existing uses to medical-related. "Clearly, something is happening," Nemser said. "People are on board."
He said that the district will bring new business opportunities and is expected to offer the community 6,000 jobs either created or retained.
"We hope this will be our western communities wellness center," Nemser said. "It will be the destination that will keep this community viable. It's something that's sort of tailored to our demographics."