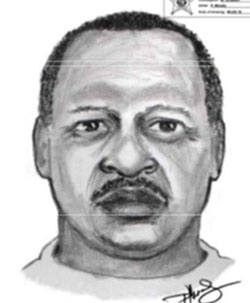 Parents, students, school officials and local law enforcement are taking precautions after two similar reports last week of a suspicious male trying to coax young students into his car.
The first incident involved a 14-year-old female from Emerald Cove Middle School in Wellington, who stated that at 8:30 a.m. last Wednesday, while walking to the bus stop, she was followed by a silver Toyota four-door vehicle.
A 6-foot-2 black male with a stocky build and medium Afro then approached her. The suspect got out of the car and attempted to coax the student into it by opening the trunk and trying to persuade her that he had something to show her inside.
She ran away to the school bus stop, catching her bus at Wellington Trace and Birkdale Drive, emotionally shaken but unharmed.
The second incident, also last Wednesday, involved a student from Osceola Creek Middle School in The Acreage. While walking home from school on Orange Blvd., the student was allegedly approached by an adult male in a silver 4-door vehicle. That incident was reported to school officials the next morning.
Both incidents have reinforced concerns as to the safety of children in the community. The Palm Beach County Sheriff's Office and Palm Beach County School District officials immediately took precautions.
The day following the incidents, West Area Superintendent Dr. Matt Shoemaker shared the information he'd received from school district police on the incidents to all principals in the county by e-mail.
"Given the similarities and the fact that both occurred in the West Area, I wanted to make you aware of these reports so that you may take the age-appropriate steps necessary to communicate and reinforce safe walking and commuting practices for our students to and from school," Shoemaker wrote.
A call also went out to parents of Frontier Elementary School and Osceola Creek Middle School students Osceola Creek Principal Dan Frank compiled a list of safety tips for all principals to provide parents and students.
The school district advises parents to take a few moments to review the list of tips with their children. Parents were told to know their child's commuting patterns to and from school, and to tell their youngsters to travel in numbers or with a partner, never talk to a stranger, be aware of their surroundings and, if they have a cellphone, to call 9-1-1 if they are being followed.
School district spokeswoman Natalia Arenas said the district has been alerting all principals in the county about the incident.
"The person could travel from one area to another," she said. "We sent e-mails to all the principals in the county encouraging them to go over stranger safety, and the school police is also coming up with ways to keep children safer."
The school police and the PBSO are still conducting investigations into the incidents.
"The deputy who took the report was given very limited information from the kids to work with," PBSO spokesman Eric Davis said.
The children were able to give a description of the vehicle but could not provide the tag numbers.
Davis said that the PBSO is doing all it can to keep children safe.
"We have got our patrols out," he said. "But the school district is doing more with giving safety tips like telling them to not walk alone."
Acreage resident and parent Karen Keogh has used the incident as an opportunity to reinforce safety issues with her children. "This incident is a great way to visit the stranger danger subject, regardless of how old your student is. Communication is so vital in these incidents," she said. "I definitely revisited this topic and went over not to talk to strangers."
Indian Trail Improvement District Supervisor Carlos Enriquez constantly reviews safety tips with his daughters, ages 12 and 13.
"I tell my two daughters to walk together or in a group, to be aware of their surroundings and any strange or out-of-the-ordinary situation," he said. "I also told them to change their routine every couple of days, and I also got them whistles to attach to their school ID lanyards."
The PBSO is encouraging people to report any suspicious activity.