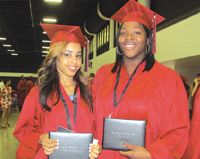 Palm Beach Central High School celebrated the commencement of its nearly 700 graduates of the Class of 2012 on Wednesday morning at the South Florida Fairgrounds.
Dressed in cardinal red caps and gowns, some adorned with medals and honor cords, the students were overjoyed with excitement as they walked in procession to the graduation march performed by the Bronco Band led by Band Director James Yaques.
Senior Class President Sally Pray gave a farewell speech to the Class of 2012 citing her hopes for a bright future.
"As we, the graduating class, sit here and watch our last moments of our high school years fade away into the twilight, we are anxiously awaiting the brand-new adventures tomorrow will bring," she said.
Pray was surprised at how quickly the 13 years of formal education went by. "Seniors, can you believe it was 13 years ago we started our first days of kindergarten?" she asked. "It may be easy for some of us to recall those memorable moments of elementary school during recess, playing hopscotch, jump rope, dodgeball, kickball and, of course, the boys chasing after the girls. Who can forget all of the boys obsessing over Nintendo and Pokémon? And for us girls it was having a new Lisa Frank folder or the new Backstreet Boys CD."
Principal Butch Mondy introduced this year's valedictorian, Justin Martinez. "He has a GPA of 3.98 and an HPA of 4.92," Mondy said. "He will be attending the Massachusetts Institute of Technology in the fall, majoring in electrical engineering and computer science, and it is my honor to introduce him."
The crowd cheered as Martinez took the podium and began to address his fellow graduates by quoting the Dalai Lama: "He is so anxious about the future that he does not enjoy the present; the result being that he does not live in the present or the future; he lives as if he is never going to die, and then dies having never really lived."
Martinez followed this quote by reminding graduates to enjoy life before it's too late. "This statement should ring true to all of us who easily lose track of our lives while planning out our big futures," he said. "GPAs, SAT scores and which class had the most points at homecoming, all these numbers will be meaningless after today because they cannot define our futures."
Martinez compared life to a pendulum. "As a pendulum swings back and forth, so do our lives and the decisions we make," he said. "On one side are people working too hard, and on the other side are people hardly working, and it's easy to get caught up on one side or the other. Finding the balance point can be a difficult challenge."
He urged his peers to find the right balance. "I know among us today there are people who have lost this balance, myself included," he said. "Sometimes I get too caught up in my schoolwork or in band to catch life's little pleasures, and I step back sometimes to realize how quickly life is passing by."
Newly appointed Superintendent E. Wayne Gent inspired students with words of wisdom. "Be patient: Life is not a drive-through at a restaurant," he said. "True self-discovery and true self-definement takes time to acquire; there are really no shortcuts."
Gent also encouraged students to never give up. "Human beings have been trying to break the four-minute mile for centuries. The ancient Greeks had wild animals chase men, and while it may have made the men run a little faster, it did not make them break the four-minute mile barrier," he said. "Other societies have had men drink tiger's milk."
None of these attempts worked at breaking that barrier. "Finally, it was decided that breaking the four-minute mile barrier was impossible because human beings had the wrong bone structure, the wind resistance was too tough, and our lung capacity was inadequate," Gent said. "But in 1954, Roger Bannister proved everyone wrong. Then one month later he was beaten, and the following year, 37 runners broke the four-minute mile."
Gent urged students to be persistent on their journey through life and to keep on serving.