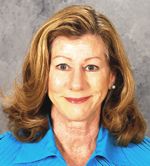 The Royal Palm Beach Village Council removed Councilwoman Martha Webster from her post as liaison to the Planning & Zoning Commission last week after refusing her second attempt to replace several sitting members with volunteers who had not served before.
The council appointed Vice Mayor Fred Pinto as the commission's liaison and agreed to re-advertise the existing vacancy.
Webster had asked to be appointed liaison during the council's annual reorganizational meeting in March, replacing Mayor Matty Mattioli.
At the council's April 19 meeting, after a heated discussion about reappointments and the power of the council liaisons, Webster did not receive a second to a motion to replace longtime Commissioner Jackie Larson, whose term had expired, and alternates Richard Becher and Janet Ellis with three new people.
Larson had written that she wanted to be reappointed, while both Becher and Ellis had said they wanted to move up to the full-time seat vacated by Genevieve Lambiase, whose term had also expired.
Instead, Webster wanted to replace them with Ana Martinez and June Perrin as members and Eric Gordon as an alternate. When Webster's motion failed, Councilman Richard Valuntas made a motion to put Larson and Martinez, an architect, on as members and return Ellis as an alternate, which was approved by a 4-1 vote with Webster opposed.
Last week, however, Martinez wrote to the village that she was no longer interested in the position because the discussion that had transpired between council members at the April 19 meeting had made her feel uncomfortable.
That brought the question of a replacement for her to the council last week.
At the May 3 meeting, Mattioli apologized to anyone whom he might have insulted at the April 19 meeting, when he had cut short applicants who were citing their qualifications to serve, telling them that wasn't necessary because the council had their résumés on hand.
During public comment, Planning & Zoning Commission Chair Barbara Powell said she supported either of the two alternates for the full-time position. She added that the commission had enough members for a quorum if they wanted to contemplate longer, and pointed out that the alternates had not had an opportunity to resubmit their résumés and that they both had master's degrees in various fields.
Webster said the overall discourse had turned out unpleasantly for the village as a whole. "Where we are now, we need to move forward because this is an important board," she said.
Reiterating previous discussion among council members that the commission members could be replaced at any time, Webster made a motion to appoint applicant Perrin to the open seat; move alternate Becher to the permanent seat held by Commissioner Darrell Lange (who had disagreed at the previous meeting with Webster on her desire to replace permanent members with new ones); to move Ellis up to Larson's permanent seat; and to place Lange and Larson in the alternate positions. The motion failed for lack of a second.
Councilman Jeff Hmara said he felt it was important to restore order to the council's meetings, which he felt had become disruptive.
"These meetings became problems in my opinion primarily due to the conduct of two council members over the issues of the Planning & Zoning Commission," he said. "Therefore, I believe in order to restore order to this council and provide for an effective working atmosphere… neither our current liaison, Councilwoman Webster, nor our previous liaison, Mayor Mattioli, should hold this liaison position going forward."
Hmara then made a motion to appoint a new liaison immediately, which was seconded by Mattioli.
Webster stressed that the council had always supported the recommendations of the liaison in the past.
"Councilman Hmara, as the new kid on the block, I think watching and listening would be a good thing sometimes," Webster said. "We have volunteers who came in here in good faith, and they were treated very badly. I was embarrassed for them. What we are saying here is the old way is the only way, and we're going to stick with the old way."
Webster said other people had come forward over the years but had not been considered.
"What we have done here is make an effort to bring in the rest of the community and give them an opportunity to serve," Webster said. "I am very disappointed that this council has said, 'Stay home, don't come to these meetings, and if you do come to this meeting, we're going to tell you not to speak.'"
Valuntas said he would like to re-advertise for the vacant position and consider it again in a month. "It would be good to get someone who's a professional engineer or certified landscape architect," he said. "We may not get them because of the behavior, what's happened here the last couple of times, but with things being the way they are, that seems like the best option to me."
Hmara modified his motion to appoint Pinto as liaison to the Planning & Zoning Commission. Pinto said in light of the situation, he would accept the nomination, but would have to give up his position as liaison to the Recreation Advisory Board.
Mattioli called the question, and it carried 4-1 with Valuntas opposed. Webster voted yes, commenting, "Councilman Pinto, I hope you are as successful as you were with the Education Advisory Board," referring to his previous position before the recent council reorganization.
Webster made a motion to appoint Hmara as liaison to the Recreation Advisory Board. That motion carried unanimously.