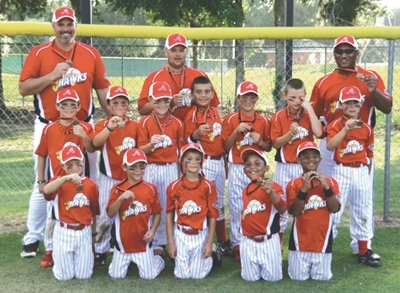 The 7 & 8-year-old Acreage Hawks all-star baseball team participated in the Babe Ruth League's Cal Ripken Rookie Division Tournament last weekend in Ocala.
Nearly 50 teams from all over Florida participated, and the Hawks came in first place in their respective division. The Hawks will move on to the Florida State Championship beginning June 28 in Palm Beach Gardens.
The Hawks are Andrew Erickson, Andrew Maag, Bryson Hadden, Brad Hart, Brandon Bouker, Dylan Singh, Wyatt Devaul, Landon Emmons, Jake Haggard, Pascual Sanchez, Jayden Fontalvo and T.J. Willson. The coaches are Eric Devaul, Pat Hart and Ray Singh.
Acreage Athletic League Baseball is an all-volunteer league composed of 300 players and families.
For more information, visit www.aalbaseball.org.