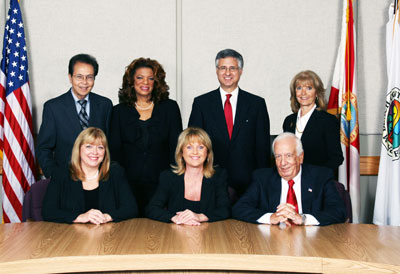 The Palm Beach County Commission approved midyear amendments to the county's Five-Year Road Plan on Tuesday, retaining the extension of Roebuck Road from Jog Road to the State Road 7 extension.
The approval was under the eye of two Royal Palm Beach council members and the village manager, who asked that the planned road not be deleted, lest opponents, the City of West Palm Beach and the neighborhoods of Andros Isle, River Walk and Baywinds south of the road's right-of-way, should seek to eliminate it entirely.
But don't expect the road to take shape anytime soon. It is currently slated for the tail end of the road plan and could be delayed further.
Royal Palm Beach Councilman Jeff Hmara spoke in favor of the Roebuck Road extension project.
"I understand that staff has made a recommendation that it be retained in the five-year plan," he said. "I would like to support that and ask for your continued support for that project. I believe it to be a prudent planning measure. I think we all know that good, effective road networks are necessary to have well-managed roads, and I think this will serve the residents of Royal Palm Beach very well."
Councilwoman Martha Webster also spoke in favor of keeping the Roebuck Road extension. "I want to thank you all as we've gone through this process," Webster said. "As you know, we are here. We have honored all the meetings that you have asked us to attend. It's an important road for us, and we will continue to support it. We're asking you to support it in the five-year plan."
Webster pointed out that deletion of the extension could lead to the undesirable and more expensive alternative of overpasses on Okeechobee Blvd. at State Road 7 and Jog Road.
"We are already suffering the overpass at State Road 7 and Southern," she said. "The overpass has made us have to provide variances because of the economic impact to those businesses that are along that overpass."
Keeping the Roebuck Road extension will stop that from happening in other locations, Webster said.
Village Manager Ray Liggins was also supportive, and thanked the county for securing all the rights-of-way necessary to build the extension.
"We are pleased to see that the county has procured all the rights-of-way necessary for Roebuck Road," Liggins said. "We believe the inclusion of the Roebuck Road construction plan will hopefully postpone those overpasses just mentioned by Councilwoman Webster. When you look at those interchanges, they take out the restaurants, the gas stations and Walgreens between the turnpike and Jog Road on Okeechobee Blvd., and completely expose the River Walk development to the 80,000 cars per day by eliminating their buffer. While there are impacts with any road construction, the impact of the construction of this Roebuck Road would be less."
Commissioner Karen Marcus asked why the construction of the Jog Road extension along the east side of the West Palm Beach Water Catchment Area, which has also been opposed by West Palm Beach, was slated for deletion. "We're keeping Roebuck, but we're deleting Jog?" Marcus asked. "Is there any way to keep it in?"
County Engineer George Webb said that the change is at the discretion of the commission.
"I don't know why we would take it out if we're going to keep Roebuck in," Marcus said. "My only objection is deleting Jog Road."
Commissioner Burt Aaronson agreed with Marcus. "I don't see any reason why we should take Jog Road off," Aaronson said.
Commissioner Priscilla Taylor also said that she would prefer the Jog Road extension be put back in.
Webb explained that the Jog Road project requires the purchase of right-of-way from West Palm Beach. "They are refusing to sell us right-of-way," Webb said. "We met with them twice over a two-year period, and they said, 'No, we're not interested.' We need West Palm Beach's cooperation totally to get it built. We can't even use our powers of eminent domain to go after this property because the property is structured in an environmental permit."
Webb said that the Roebuck Road approval is different than the Jog Road extension because the county controls the right-of-way, although he anticipated that West Palm Beach will continue to fight Roebuck Road by throwing up permitting objections.
Commissioner Jess Santamaria reaffirmed the commitment of the western communities — Royal Palm Beach, Wellington, The Acreage and Loxahatchee Groves — that the contractual agreement for Roebuck Road between the county and West Palm Beach, which was a condition of approval for the three communities along the right-of-way, be adhered to.
"The central western communities, comprised of over 200,000 population, insist that that commitment be adhered to by the county and West Palm Beach," Santamaria said.
Commissioner Paulette Burdick said she would not support inclusion of the Jog Road extension because clean drinking water is more important than new roads. Aaronson, however, said that he believes that West Palm Beach's opposition has nothing to do with clean drinking water.
"I think what it has to do with is, if we were to take Roebuck Road off completely, I think the City of West Palm Beach would give us the right-of-way on Jog Road," Aaronson said. "It becomes a political thing, and the fact is we're supposed to have Jog Road, we're certainly supposed to have Roebuck Road, and I'm supporting it because the City of West Palm Beach has [refused] almost everything that we've asked them for, including a meeting with the parties involved."
Santamaria said he would want scientific documentation that the West Palm Beach Water Catchment Area would be compromised before he would consider water quality as a reason to stop construction of the Jog Road extension.
A motion by Marcus to approve the road plan with the Jog Road and Roebuck Road projects included, carried 5-1, with Burdick opposed and Commission Chair Shelley Vana absent.