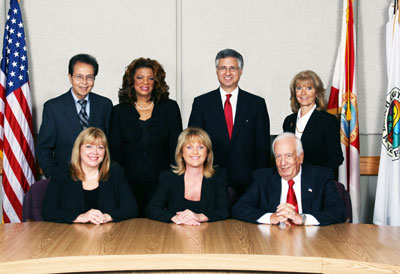 The Palm Beach County Commission gave full funding support to its well field protection ordinance Tuesday, although a number of municipalities, including Wellington, have opted not to continue paying for the program.
Since 80 percent of Palm Beach County's potable water comes from groundwater sources, the county's Environmental Resources Management department is tasked with protecting well fields from the risk of contamination.
For years, municipalities funded the work jointly with the county. However, at a March 27 workshop, ERM officials said that the department no longer has adequate financing for the well field protection program since a number of municipalities have pulled out due to financial constraints.
The commissioners postponed action in March so that county officials could try to get municipalities that have dropped out of the program back on board. That effort was not successful, ERM representative Robert Robbins told commissioners Tuesday.
Richard Hasko, environmental services director for the City of Delray Beach, said his community chose to stay with the program because they feel it is indispensable.
"Well field protection is the first line of protection for not only the municipal but obviously the county's drinking water," Hasko said. "We had a firsthand experience back in the mid-1980s of a serious, major well field contamination in Delray Beach. We didn't have to go through that to realize it's much cheaper to monitor and prevent than to mitigate after the fact."
Hasko said water supply is a regional issue. "The water supply is a common water supply for every water utility in the county," he said, explaining that he thought the county has run an effective well field protection program to identify potential groundwater contamination.
Should the program become fractured, with each municipality running its own program, there would no longer be general oversight. "It makes it very difficult without that regional oversight to make it efficient," Hasko said.
Sheila Calderon of the Sierra Club encouraged the county to continue the program, with or without more municipal support.
"Well fields provide 80 percent of our safe drinking water," Calderon said. "I don't know how we could even consider any budget cuts that would put public health in jeopardy by making cuts to inspections of gas stations and other polluters."
Calderon said she thought the local provision is even more important in the face of continued state and federal deregulation.
Commissioner Karen Marcus asked whether county staff had reached out to the municipalities that were pulling out, and Robbins said they had, but many of the municipalities were waiting to see what action the county commission would take.
Robbins said that about 12 percent of the county's water supply is unaccounted for.
"Of those 12 percent, we know some like Mangonia Park would probably participate, but they want to see the outcome today," Robbins said. "Others have told us that they will not participate, or they will do something on their own."
Those waiting to see what action the county would take included Riviera Beach, Tequesta and West Palm Beach, which Robbins said probably would not participate no matter the outcome.
Wellington, Boca Raton and Palm Springs have indicated they will not participate but will run their own programs, Robbins noted, while West Palm Beach and Boynton Beach have said they will not participate and do not intend to run their own programs.
About 47 percent of the county's allocated water supply would be under the county's well field protection plan and 41 percent would be under some form of municipal protection, he said.
Commission Chair Shelley Vana said the county cannot force the municipalities to participate.
"We do have the responsibility to make sure the wells are OK," Vana said. "My question is how do we know how well anybody's doing it? Either we're going to take responsibility or give it to everybody else."
Vana said she thought the county should continue its plan whether the cities participate or not. "I'm not saying I don't trust our municipalities, but we know what we're doing," she said.
The program's cost is about $512,000, and the amount that would need to be reinstated to the program would be about $355,000, Robbins said.
Commissioner Paulette Burdick, a resident of West Palm Beach, said she recalled a recent time when the city's water looked, smelled and tasted bad and could not understand why it would not elect to be in the program or initiate its own.
"Good, clean, safe drinking water is so important to Palm Beach County," Burdick said. "If we don't have that, then everything else that we do is going to be detrimentally impacted, so I can certainly support doing this on a countywide basis."
Robbins said the county used to monitor businesses around the West Palm Beach well fields but no longer does so. He explained that the county is currently only monitoring well fields in those municipalities that pay a prorated share into the program.
Vana favored doing the full program, regardless of whether all cities participate. "I think the water is very important, and I think we should enter into [agreements] working in a good faith with the municipalities," she said. "We will need them and they will need us at some point in time."
Marcus made a motion to continue the well field protection plan, which carried unanimously.
Wellington Engineer Bill Riebe told the Town-Crier that the village had opted out because there are no potential sources of contamination near its well fields and that the county's request for support of about $20,000 had not been specific enough.
"Most of the potential contaminant sources are under control of the Village of Wellington," Riebe said, including its municipal fuel station and tanks for emergency generators.
He said that Wellington has implemented its own well field protection plan. "When [the county] brought this up, they really didn't give a good itemization of the cost," Riebe said. "All the people, public and private, benefit. What the county wanted was for the municipal authorities to pay for the program, and it wasn't fair to ratepayers in Wellington or Boca or anywhere else. They want to shift the burden onto the cities."