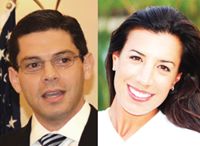 Two Republican candidates — Geoffrey Sommers of Boca Raton and Melanie Peterson of Wellington — are vying to be their party's nominee for the newly drawn Florida State Senate District 25 seat.
Sommers and Peterson will face off in an August primary. The winner will face State Rep. Joseph Abruzzo (D-District 85), the Democratic nominee, in November. The district, which includes nearly all of the western communities, leans Democratic. The filing deadline for legislative offices is Friday, June 8.
MELANIE PETERSON
Peterson, 35, has lived in the district for most of her life. "I manage a horse farm in Delray Beach, and I recently moved up to Wellington," said Peterson, who has been in the horse business for 18 years.
Peterson also runs the horse listing service horsemls.com and recently obtained her real-estate license.
Peterson said she is running because during the 25 years she has lived in the area, much has changed, some for good, but some for the worse.
"Some was not so great because it was change that benefited a few and affected very many," she said. "About 10 years ago, when I was in college, I was in an environmental fellowship. Coming from an agricultural background with the horses, I was very much an advocate for the agricultural industry in Palm Beach County. I wrote a short informational booklet about agriculture in our county, and it kind of took off. I became an advocate for agriculture not only in our county but throughout the state."
Peterson sat on the Equine Advisory Board for the Florida Farm Bureau for eight years and got involved in the political process by advocating for the equestrian industry. For the past six years, Peterson has served as an elected supervisor on the Palm Beach Soil & Water Conservation District.
"I just resigned my seat to run for this seat," she said. "I've tried to use my knowledge and education to volunteer in the community for educational outreach about the environment and agriculture and, through that process, became really familiar with the legislative process and how things work all the way from the ground level to Tallahassee and back."
This led people, including current legislators, to encourage her to run for state office.
"I think that it's time now for some citizen candidates to go into government and really bring some common-sense solutions," she said. "It's a little heavy right now. I think that business people can help to unload that weight."
Peterson stressed that she does not consider herself a politician. "I'm somebody who's concerned about her community and has business experience," she said. "I come from an entrepreneurial background. I've been self-employed. My parents are self-employed. We're people used to making something from nothing. I think we could use more people like that."
Peterson said the prevailing issue anywhere is jobs and the economy. "My focus is on stimulating the local economy here," she said. "How do we stimulate the state economy? How do we encourage small business growth and development?"
She said she is also concerned about education, noting that companies often decide against coming to Florida because there is not enough of a skilled workforce. "That's where education and job creation go hand in hand," Peterson said.
She believes that creating a good environment for small businesses can be more beneficial than helping a few big ones. "It's more effective if we remove the red tape and encourage people to start their own businesses, and encourage the private sector," Peterson said.
For more information, visit www.votemelanie.com.
GEOFFREY SOMMERS
Sommers, 31, grew up in southern Palm Beach County, where his family still lives. His wife, Allison, and her family are also from South Florida.
"We are recently married," he said. "We met when we were 11 years old."
Both Sommers and his wife are lawyers. Her practice is in criminal defense, and he specializes in corporate and commercial work after spending several years overseas.
"I came back, and I have friends who don't have jobs," he said. "They are also educated, and they don't have the jobs they want or don't have jobs at all. This is what motivated me to run. What qualifies me to run is the experience that I do have in helping businesses as they deal with government regulation. I can see ways in which true fiscal conservatism can assist businesses."
Sommers has not held political office before. He has a bachelor's degree in political science, a master's degree in international relations, a law degree with a specialization in international trade, and a master's degree in international and comparative law. He regularly commutes to the District of Columbia, where he teaches law at George Washington University.
"I am excited that we are now in the summer months so I am no longer on a plane every week," he said. "The semester is over, so I am focusing on this full-time now."
Sommers said changes need to be made to the state's business climate. "I believe we deserve representation that is friendly to business and economic growth," he said. "I care about our community."
He said his strength is his understanding of how government affects business. "I really can't stress that enough," Sommers said. "I believe it will be private industry, not government, that will lead our recovery."
The top issues of the campaign will be jobs, the economy, schools and healthcare, he said.
"We have a broken system," Sommers said. "We are all concerned about our schools. I do believe that opportunity starts in our schools, so if we are going to support our local businesses, we also have to support our community's children so they are in a position at some stage of their lives to take advantage of a positive, growing environment for business."
Sommers said his campaign is about fundamentals. "There are certain principles that I believe come from our nation's founding and are applicable to basically every decision that I would be honored to make as my community's legislator," he said.
Freedom and opportunity are at the heart of his campaign, he said.
"I know it sounds cliché, but to me it's not," Sommers said. "To me it's applicable in every situation, whether I'm deciding an issue on business or healthcare, or education. I look to those guiding principles and say, 'Well, what was the intent of our founders?' I believe that in many cases we have moved away from the individual and more toward the government. I firmly believe that it is government's responsibility to be accountable to all of us as individuals, more so than it is for individuals to be accountable to the government."
For more information, visit www.geoffsommers.com.