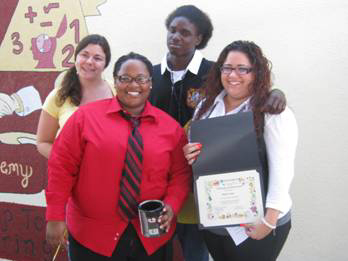 City officials, school administrators and Abrakadoodle art leaders convened with student designers Wednesday, May 30 at Crossroads Academy in Belle Glade to reveal a new, student-designed school crest for Crossroads Academy. The new crest was the culmination of a year-long school art project sponsored and led by Abrakadoodle-Greater West Palm Beach.
Student artists Hayley Lopez, Ron'Shae Graham and Devonte Lawrence were presented with an Abrakadoodle certificate of achievement for their efforts.
South Bay Mayor Shirley Walker-Turner spoke to the students from the heart. "I encourage each of you to take advantage of this opportunity now because you will not have this day again," she said. "What's gone is gone."
As a result of such great talent these students demonstrated, Abrakadoodle hopes to continue to provide an ongoing art education program to the Crossroads Academy for the upcoming school year.
In addition to Walker-Turner, celebrating words were shared by Belle Glade Mayor Steve Wilson and Pahokee Mayor J.P. Sasser.
Abrakadoodle Director Gillian Gordon offered a heartfelt expression of gratitude to her instructor, Cayla Coco. Closing remarks were provided by Crossroads Academy Principal Derrick Hibler and assistant principals Jeremiah Stewart and Anne Dorsey.
To learn more about Abrakadoodle's creative classes, camps, parties and face painting, contact Gordon at Abrakadoodle-Greater West Palm Beach at (561) 793-3541 or ggordon@abrakadoodle.com, or visit www.abrakadoodle.com/fl10.
Shown above: Abrakadoodle instructor Cayla Coco, Ron'Shae Graham, Devonte Lawrence and Hayley Lopez.