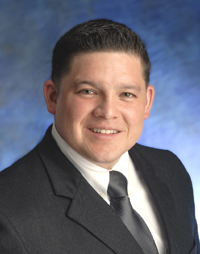 Lesser, Lesser, Landy & Smith attorney Luis Delgado has been inducted as treasurer of the Palm Beach County Bar Association's Young Lawyers Section.
Elected by his peers, Delgado (shown above) will serve a one-year term, responsible for supervising the finances of the Young Lawyers Section, working closely with the association's executive director, members of the executive board and executive committees. Prior to his election, Delgado served in various YLS leadership positions, including chair of the 2012 YLS Young Lawyers Judicial Luncheon Committee and other section committees that coordinate service projects for the Boys & Girls Clubs of Palm Beach County and Habitat for Humanity.
The Palm Beach County Bar Association's Young Lawyers Section is an active group of young attorneys with the mission of encouraging networking via community outreach and public service activities. The Palm Beach County Bar Association's YLS was recently recognized by the American Bar Association's Young Lawyers Division, winning first place in the Awards of Achievement Program Comprehensive category.
Delgado is the current president-elect of the Hispanic Bar of Palm Beach County and a graduate of the Leadership Palm Beach County Class of 2012. He also serves as a member on the University of Florida Law Alumni Council, a select group of alumni whose primary function is nationwide outreach to continue to build upon the success and traditions of the College of Law.
Delgado focuses on the practice areas of personal injury, automobile accidents, premises liability and products liability. Prior to joining LLL&S, Delgado served four years as a prosecutor for the State Attorney's Office, during which he filed charges against defendants using Florida's "Career Criminal" and "Violent Career Criminal" statutes. As prosecutor, he handled thousands of court hearings ranging from simple thefts to serious cases such as gang crimes, drug sale, drug trafficking, attempted murder and murder, taking approximately 100 cases to verdict. For additional information on LLL&S, call (561) 655-2028 or visit www.lesserlawfirm.com.