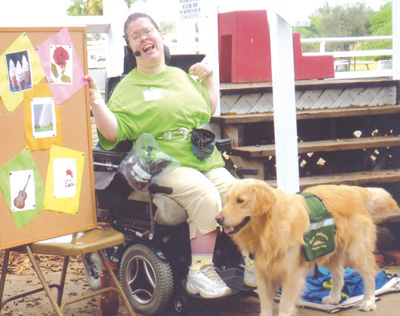 Cynthia Szuka was born with cerebral palsy, is visually impaired and needs a power chair to get around. She is also a college graduate (magna cum laude), a skydiver and the person responsible for getting more than 10,000 wheelchairs, walkers, crutches and canes donated to those in need.
"When she was born, she was actually given a few expiration dates," recalled Cynthia's mother, Alicia. "First we were told she would not live past 24 hours, then 36 hours. When she made it past those, we were told it would be best to put her away somewhere. A specialist in Miami said she would not live to be 20."
Today, at 26, Cynthia continues to be an inspiration to everyone who meets her. She has received the State of Florida Able Trust Youth Leader Award, and television channel WPBF gave her its "Spirit of Hope" award two years ago.
She deserves the accolades — not only because of all she has accomplished but because of her attitude toward life. It's an attitude that keeps her fans in awe, particularly those in her own family: mother Alicia, father Juan and sister Elisabeth, 20.
"We are so proud of her spirit, of who she is, of how she sees life no matter what her circumstances," her mother said. "She's come a long way. She's a hard worker. She finds value and purpose in life by always asking, 'How can I help someone else?' We are very proud and thankful of who she is."
The wheelchair drive, for which Cynthia is best known, started nine years ago when she was a 17-year-old student at Wellington High School.
"I needed a new power chair and was not able to afford it," Cynthia remembered. "The cost of this wheelchair was approximately $47,000. My friends saw my need and got together and gave me the wheelchair that I needed. I wondered why they would do this, and they told me to enjoy it."
From that point on, Cynthia was inspired. "I kept thinking about how I could give back. I was in the National Honor Society. They had planned certain community projects that I could not participate in because I use a wheelchair for mobility and these projects were not accessible to me," she said. "I then came up with a plan to collect wheelchairs. I went to my sponsor and asked if we could have a wheelchair drive at my school, and she agreed. That year we not only had a successful wheelchair drive, but my sponsor included this project as an ongoing project for the National Honor Society."
Not satisfied with a "mission accomplished" grin, Cynthia expanded the project by going to her pastor and inquiring whether her church would join her efforts, which they did with open arms. Cynthia also joined Joni & Friends Wheels for the World and became the volunteer contact person for the local "wheels corps."
Over the years, she has enlisted hundreds of volunteers to help her collect, refurbish and transport the thousands of mobility aids. Most of the volunteers are members of Christ Fellowship Church, and the Christ Fellowship Special Needs Center is a permanent drop-off site.
"My new goal is to collect another 10,000 wheelchairs, walkers, crutches and canes," Cynthia said. "Christ Fellowship has embraced the mission and operates a lending closet so our community is blessed. Through Wheels for the World, we send all the manual wheelchairs, walkers, crutches and canes to correctional facilities and triage centers, where they are refurbished to almost new, and then sent overseas to developing countries and given away at no cost."
But there's more. "We help the Shriners Hospital in Tampa by donating the power wheelchairs that are given to the ministry," she added. "The Shriners refurbish them and give them to the children they help at the hospital. To date, we have given over 50 power wheelchairs to the Shriners Hospital."
The work has become a family affair. In addition to the support Cynthia gets from her father and sister, her mother oversees the Special Needs Ministry at Christ Fellowship.
But more help is needed. "I am always in need of volunteers to scout for wheelchairs, walkers, crutches and canes that can be donated (no matter their condition) and for volunteers to transport these to the Special Needs Ministry," Cynthia said.
The work is not without its rewards. "I have gotten much feedback from recipients locally and internationally," she said, citing the case of a boy in Cuba whose father installed small casters onto a kitchen chair because the family could not afford a real wheelchair. "The boy could be transported from one room to the other room in the house, but the boy could not go to school. Through this ministry, I was able to send a wheelchair for this boy, and, as a result, he is now going to school."
With this "small project" now running like a top, what's next for Cynthia?
She wants to become a minister. She has a bachelor's degree in Christian leadership from Palm Beach Atlantic University with a minor in communications, and most importantly, she believes that "helping others is important in the calling of my life."
An avid reader, Cynthia also likes to write. She has already published a children's book titled Zippy: An Angel with a Purpose and is writing a Biblical fiction novel as well as a devotional book. You can check out her blog at www.atreadmark.wordpress.com.
"Life is not fair, and we all have challenges, but I believe that it is up to each one of us to choose what type of life we want to live," Cynthia said. "Choosing to make a positive impact in the lives of others is what I have chosen to do with my life."
How can you help? Donate your unneeded wheelchairs, walkers, crutches and canes to the project, or act as a scout to locate these items and transport them to the ministry. For more information, call (561) 502-0233 or e-mail Jobeulah@bellsouth.net.
Shown above is Cynthia Szuka  as Mrs. Claus at the Christ Fellowship Special Needs Ministry Christmas Party last year. She makes sure every child is awarded with an individualized gift, shopping for each child throughout the year.