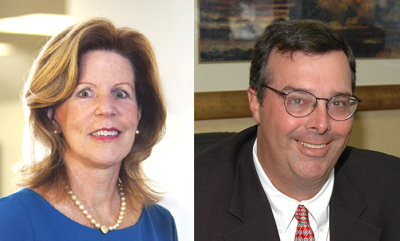 Former Palm Beach County Tax Collector Peter Carney is challenging his successor, incumbent Tax Collector Anne Gannon, in an Aug. 14 Democratic primary.
Carney argues that Gannon has been running the office in an unfriendly manner, spending money wastefully and letting tax dollars leave the county for some of its contractual services.
Gannon counters, however, by saying the office has made significant improvements in the six years she has been in charge.
Running as a Republican, Carney lost to former Tax Collector John K. Clark in 2004. He was appointed to the job in early 2006 by Gov. Jeb Bush when Clark resigned due to health reasons. He lost to Gannon in that year's general election, taking 40 percent of the vote to Gannon's 60 percent.
A real estate title attorney, Carney switched his party allegiance from Republican to Democratic last year. He will face Gannon in a closed primary due to the filing of write-in candidate Allison Schuler. With no Republican in the race, the winner of the primary will be the only name on the general election ballot.
"The tax collector's office is being run in an inefficient, unfriendly manner," Carney told the Town-Crier on Tuesday. "It's spending tax money wastefully, and tax dollars are going out of the county where it once wasn't because of the printing and mailing, which can equate to taxpayer jobs going out of the county."
In his brief tenure in office, Carney said things were going better.
"During the time I was there, we brought in e-checks, we made the web site more user-friendly and accurate," he said. "We were in the final stages of accepting debit and credit cards. When the incumbent tax collector took over, that got shelved… She decided to go to an outside computer system and not continue to use the county system. That computer system has caused most of the problems she has blamed the county for."
Carney said he uses the system on a daily basis in real estate business.
"This Manatron system has been very costly and hasn't done what it promised to do, at least promised to taxpayers of the county," he said. "The tax collector's job is to make government more efficient and less costly; well, that hasn't been the case because costs have gone up."
Carney is also critical of Gannon's decision to hire a company in Orlando to do its printing and mailing. "I'm talking about sending taxpayer dollars out of the county, which I view as sending jobs out of the county, because she now has a firm in Orlando doing all the printing and mailing for the tax collector's office," he said. "That used to all be done by the county; they handled it, they kept the money in the county."
Carney said he wants the tax collector's office to pool resources with other county agencies in order to save money, rather than function independently. "You have an office, yes, it is independent, but whether you like it or not, you're a part of the county because you turn over your excess fees at the end of the year, so the more money you turn over to the county, the better it is for the county taxpayers," he said.
Gannon said she is trying to run a positive campaign that dwells on efforts to improve services to customers.
"We have done a number of changes internally because we had to change the culture in here so that we could focus on our customer," Gannon said, explaining that the office was highly compartmentalized when she took office. "When I took over, people really ran their own little department and didn't communicate and understand how what they did affected someone else's job, particularly our clients."
Two years ago, tax collector's offices statewide were required to take over driver's license testing and renewal. "While that was a huge undertaking, I think our agency handled it well," Gannon said. "We had some issues when we first took on driver's license issuing, but you also had employees who had three weeks of training put out in the field with a six- to nine-month learning curve."
Gannon said that in general, her employees get high praise for customer service. Furthermore, she has given employees additional training opportunities, including last October when the Disney Institute did a workshop on customer service. "They really are the experts in the world," she said. "We figured we could learn something from them, and I think we did."
Gannon said her office purchased the Manatron property tax software system because the old system was not getting the job done.
"Our tangible tax, our business receipts tax and our tourist development tax were all additional systems that you actually had to get out of one to get in another," she said.
Currently, the system will process e-checks, credit cards and debit cards online, but not in the offices. This is due to a lawsuit over fees with one of the credit card companies, she said. Gannon explained that credit card fees would have to be passed on to the customer.
"That's part of what they don't understand, and they are not cheap fees," she said, explaining that the fees are based on a percentage of the transaction.
She said her office is developing an in-house system so her customers do not have to pay that fee. "We're working on that, but that's going to be in the next year because it takes a long time to write that and test it," Gannon said.
Regarding printing services, Gannon said her office put out a bid for printing because she had made a commitment to cut costs wherever possible. "The way it worked previously is we paid the county to do our printing," she said. "It cost us 14-and-a-half cents per page, and we still had to send our printing to a company in Martin County to do the mailing. When we went out for [bid], there's a printing company that bid on it and we actually pay 7-and-a-half cents, half of what the county charged us. For me, as far as maximizing our tax dollars, it was worth it."
To learn more about the candidates, visit Carney's campaign site at www.petecarney2012.com and Gannon's campaign site at www.reelectannegannon.com.