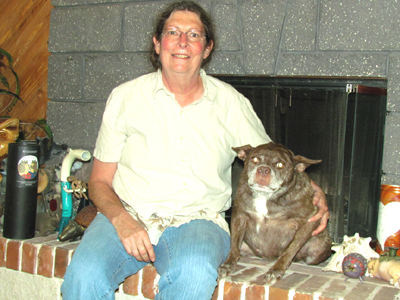 Dr. Ginnie Sayre of Pet Wellness Station is the veterinarian in charge of the vaccination clinic at Red Barn Feed & Supply in Loxahatchee Groves. For small animal breeds such as dogs and cats, the clinic is available with no appointments necessary for two hours on the first Sunday of every month.
At Red Barn, Sayre provides low-cost vaccinations for pet owners who need healthcare for one or multiple animals. "With the economy, people with healthy animals are looking for a way to afford their pets' yearly vaccinations and health upkeep with preventative medicines for flee and heartworm," Sayre said.
Sayre advises pet owners to still keep a relationship with their primary vets. The services she offers at Red Barn are only supplemental low-cost solutions. "If their animal gets sick, they need to go to an animal hospital," she said. "My services are mostly for young, healthy pets who have nothing really wrong with them."
Red Barn Feed & Supply was founded in 1989 by Jerry and Betty Case. It sells a variety of animal products, from grooming supplies to animal feed. Its vaccination clinic began four years ago under a limited-service license. Sayre said the Cases asked her to partake in Red Barn's development from the inception. "Since all the other pet stores had them, Red Barn's owners thought it would be a good idea to have one there," she said. "They knew me from coming in and around the community, and asked if I would do the vaccine clinic once a month there."
The vaccination prices vary depending on the age of the animal. "They're quite a bit cheaper than going to a regular clinic," Sayre said.
The vaccination clinic has steadily grown since it began. "We probably see anywhere from 25 to 40 animals," Sayre said.
Sayre noted that many of the people who bring their pets in to the vaccination clinic have more than one animal. "They sometimes have as many as four, five or six animals that they need to get vaccinated," she said.
According to Sayre, if owners of multiple pets did not come to her for vaccinations, the costs could be in the hundreds of dollars for all their animals. "Our costs can sometimes be half of that," she said.
It's important for animals to keep up with their yearly vaccines to prevent certain illnesses. "We are another opportunity for pet owners to come in for other low-cost options," Sayre said. "We are also close and convenient for people in the western communities."
Animals are seen on a first-come, first-served basis, with no appointment necessary. Pet owners must come between the hours posted, which are usually from 10 a.m. to noon on designated Sundays, and cats must be in carriers and dogs on leashes.
Sayre also conducts minor physicals of animals while they are waiting to get their vaccinations. "If I see a problem I can recommend home remedies," she said. "If it's an issue where they need to go and see a regular vet, then I let them know."
Sayre said she has always had a love for animals. "I grew up on a farm in Plant City, Fla.," she said. "I've been working for a veterinarian since junior high school."
Sayre has been a veterinarian since 1985, having received her degree from the University of Florida in Gainesville.
The next vaccination clinic will be held Sunday, July 1 at Red Barn Feed & Supply (12948 Okeechobee Blvd., Loxahatchee Groves). For more info., call Sayre at (561) 236-7365 or e-mail petwellnessstation@comcast.net.
Above: Dr. Ginnie Sayre with her dog Quasimodo.