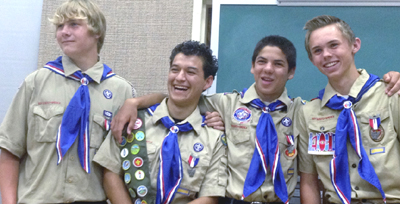 On Sunday, June 17, Braeden Davies, Brayan Giraldo, Jace Kandare and Forrest Klein of Boy Scout Troop 110 were awarded the highest rank available in the Boy Scout program — the Eagle Scout. They were praised for their work ethic, care for others and dedication to the program at their Court of Honor held in the Church of Jesus Christ of Latter-day Saints.
To receive this rank, each of the boys completed an extensive community service project to improve their surroundings. Davies and Kandare separately selected areas of Okeeheelee Park and brought volunteers together to repaint the fences located in each area. Giraldo composed a group out at Southern Virginia University, installing posts in the cross country trail there to indicate distances for the runners. Klein chose to plant 25 gumbo limbo trees in front of the Palm Beach Zoo, along with building a bench and table for placement in the Dreher Dog Park.
Above: New Eagle Scouts Forrest Klein, Brayan Giraldo, Jace Kandare and Braeden Davies.