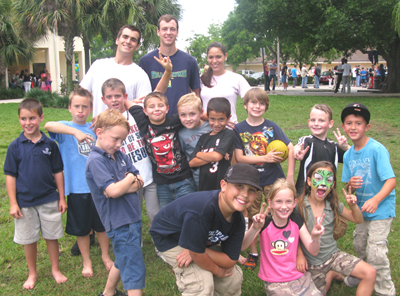 Wellington Christian School hosted its annual PraiseFest event Friday, May 18. As rainstorms prevailed prior to the festival, more than 500 children and their family members attended this spirited evening of outdoor games, music, food, face painting, and fellowship.
This is just one of the many events throughout the school year in which the entire WCS school community is united together, including the headmaster, principals, teachers, staff and the preschool through 12th-grade students. The Student Government Association and the high school SWAP (Students with a Purpose) team spearheaded interactive games of dodgeball and basketball, and the National Art Honor Society students coordinated outdoor marble painting. Volunteer coordinator Janet Ratty utilized the majority of the school's employees and a committee of parents to put on the successful event that thanks everyone for a wonderful school year.
Wellington Christian School is a ministry of Wellington Presbyterian Church serving more than 500 students from preschool through 12th grade.
For more information about WCS, call (561) 793-1017 or visit the school's web site at www.wellingtonchristian.org.
Above: WCS students of all ages enjoy PraiseFest.