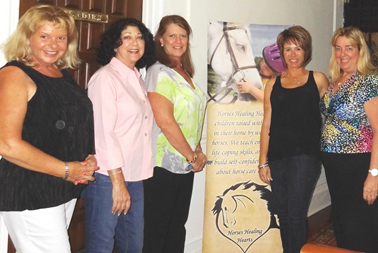 Things were jumping on a recent Thursday night at the Players Club in Wellington, as the first "Girls Night Out" event was held in the western communities.
Girls Night Out, which will be held on a monthly basis, is designed to be a night of girl chat, fabulous drink and food specials, music by DJ GFY and lots of shopping. The first Girls Night Out featured more than 20 vendors with merchandise ranging from jewelry, purses, spa treatments, insurance, makeup, fashionable clothing, spray-tans and Kangoo Jumps. But while everyone was enjoying the whole ambiance of the evening, there was a benefit to the community, too.
As part of the event, each vendor was asked to donate a prize to be used in a raffle, and the money raised from the sale of raffle tickets was donated to the charity Horses Healing Hearts. Each month, there will be a different local charity chosen to benefit from the raffle proceeds.
"We were overwhelmed by the response from the community who turned out for a night of fun and charity," said Dolores Schlick, director of catering at the Players Club. "The whole upper level of the Players Club was packed with ladies enjoying an evening out and simultaneously supporting, a worthy, local charity. We are pleased to provide the venue for this dual-purposed event."
My Sister's Closet, which has participated in similar events, invited other established vendors to participate, ensuring the high quality of the event's merchandise. Maureen Gross, director of development and community outreach for Phelps Media Group, also helped in procuring qualified vendors and publicizing the event.
"We envision that this event will grow to be a great monthly social event in the community, and it will increasingly impact many local charitable efforts. It is a win-win," Gross said.
Lizabeth Olszewski, founder of Horses Healing Hearts, was on hand for the evening with some volunteers to sell the raffle tickets. "We are so pleased and honored to be a part of this first Girls Night Out," Olszewski said. "We were able to not only increase our charity's exposure in the community, but through the raffle sales, we were able to raise a significant amount of money."
Horses Healing Hearts helps children, who have been hurt by a family member who has an addiction problem, to heal emotionally, build self-esteem and learn life-coping skills by working with horses.
Next month's Girls Night Out event, sure to be a sold-out event, will take place Thursday, July 12 from 6 to 9 p.m. at the Players Club. For information about attending, contact Schlick at pcrcatering@aol.com or (561) 795-0080. For vendor information, contact Gross at mbg@phelpsmediagroup.com or (561) 753-3389.
Shown above are Dawn Cotler and Libby Millar of Horses Healing Hearts, Dolores Schlick of the Players Club, Horses Healing Hearts founder Lizabeth Olszewski, and Maureen Gross of Phelps Media Group.