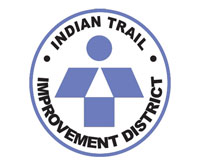 In an attempt to improve drivers' awareness of stop signs, the Indian Trail Improvement District is going to experiment with flashers at select four-way stop intersections in The Acreage.
Director of Maintenance & Operations Tony Las Casas said he has acquired some flashers to go on the top of stop signs to use during the test period.
"I hope to install a couple of flashers at several intersections within the next 30 days," Las Casas told the Town-Crier on Wednesday. "We'll see how they work and see if they address what we're trying to accomplish."
The ITID Board of Supervisors has discussed placing four-way stop signs at the paved neighborhood network road intersections, following guidelines described in the Manual of Uniform Traffic Control Devices.
Las Casas said the existing stop signs are already visible but that the district is trying to highlight them to make drivers more aware. "We're trying to bring more attention to them," he said.
During discussion at ITID's meeting May 9, supervisors directed staff to go ahead with the experiment, following a recommendation by consultant Trent Ebersole of McMahon Transportation Engineers & Planners.
Ebersole's firm created an overall traffic calming plan for ITID. The staff report, though, makes clear that providing four-way stops at intersections for traffic-calming purposes is not the district's intended purpose.
A proposal for traffic calming on 140th Avenue North did not get the board's OK.
"There was some discussion about overall traffic from the consultant, Trent Ebersole, and that's where the consideration for the flashers came up, to try that in lieu of other changes at this time," ITID Administrator Tanya Quickel told the Town-Crier on Wednesday.
She said that ITID staff intends to present the board with a full report at some point.
"I'm not sure if we'll have it done by the June board meeting, but within the next couple of months," Quickel said.
Las Casas said the flashers will be solar-powered LEDs (light emitting diodes) installed on existing stop signs. "These are small units that go on top of the stop signs," he said.
At the May 9 meeting, some residents said they like the dark in The Acreage and did not want it spoiled by flashers. "This is a pilot test, and we may find that they're bright enough, they're too bright, they're not durable, who knows?" Las Casas said. "That's why we're running the sample. Before we go and order several hundred of these, we want a pilot test to see what we're looking at."
Quickel said the experiment is part of the overall traffic program in the district.
The estimate for installation of flashers is $75,190, which is currently included in the proposed budget for fiscal year 2013.