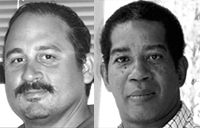 Two seats on the Indian Trail Improvement District Board of Supervisors are up this year, and candidates have until next Friday to qualify for the ballot.
Seat 2 incumbent Supervisor Carlos Enriquez faces a challenge from Gary Dunkley, while ITID President Michelle Damone, the Seat 4 incumbent, remained unopposed as of Wednesday in her bid for another four-year term.
The filing period closes at noon on Friday, June 8. Both Damone and Enriquez told the Town-Crier that they intend to seek re-election, although they had not filed as of Wednesday.
Dunkley, 57, said he's running because he does not like the direction the community is taking.
A Miami resident for more than 30 years, Dunkley is of Caribbean descent. "I am a single parent," he said. "Myself, my family and my animals, we built our home in Loxahatchee 10 years ago. We enjoy our horses, and we love animals. I moved out here for open spaces. My grandkids, when they come to visit, they enjoy the open spaces, and that's why I moved out here."
Dunkley, a member of the Acreage Landowners' Association, has a bachelor's degree in business from Florida International University. He started as a debit agent for John Hancock, then got a job with the state monitoring pari-mutuel wagering. His responsibilities included the Flagler, Biscayne and Hollywood dog tracks.
"After that, I opened up my own bail bonds agency in Miami," he said. "I owned it for 15 years, then I retired. I moved out here to give my kids a new start in life, getting them out of the city."
Dunkley said he recently came out of retirement to work for another bail bonds agency to help pay his children's college tuition.
His eldest son is a journalist living in Hong Kong. His eldest daughter is an assistant principal in Gainesville. His second-oldest son is studying film in New York, and his youngest daughter is pursuing her master's degree at Georgia State University. Dunkley said part of the agreement with his kids is that he will continue to help with their tuition as long as they remain in school.
Dunkley said he is running because he thinks ITID does not give the public sufficient opportunity for input.
"I think we should use the resources we have to expand our rural character," he said. "I believe the whole community should be fairly represented in Indian Trail, not just part of the community."
Dunkley feels that there should be open communication between residents and elected officials. "I think unnecessary rudeness is not appreciated from our elected officials," he said.
Declining to cite any specific incidents, he said, "I believe that if you are elected by the people, you should talk to the people with respect."
Dunkley also believes that there was not enough public input for the community center approved recently to be built at Acreage Community Park. "What I object to is the methodology and the way they conducted the survey," he said. "Not everyone was able to participate. To participate, you had to log on to the Indian Trail web site."
Dunkley said he believes The Acreage should continue with its thrust to develop as an equestrian-oriented community, citing the recent improvements to the Nicole Hornstein Equestrian Park. "Every community should develop a theme," he said. "We can't jump from one spot to another."
He said that ITID should continue developing greenways, equestrian trails and paths that will be conducive to an equestrian environment — "like every other elected official since I've been here promised to do. I haven't seen it," Dunkley said.
Enriquez characterized his first four years on the ITID board as successful for the community.
"It has been an amazing four years," he said. "I think my record speaks for itself as far as the accomplishments. Compared to where the district was when I first got elected and where it is now, it has made quite an improvement, from more roads being maintained, to lower taxes. We've lowered taxes about 19 percent."
The district is also moving forward on numerous projects, including one of Enriquez's favorites, telemetry for the water control structures, which is reducing the need for workers to operate them manually.
"I pushed for the telemetry," he said. "In the district, no longer do you have to call out a worker to go to various gates out in the district. It's still an ongoing project, but we're moving forward on it. The gates and pump stations are electronically controlled through cellphones. I feel that's a very important accomplishment I have contributed to the district."
Moving ahead with the Acreage Community Park expansion, which involved a complicated land swap with the county and also got The Acreage its new library, was another major accomplishment. "We're close to making this a reality," he said of the park. "We're close to having our shovels in the ground."
Enriquez said completion of the park and library will contribute significantly to the improvement of property values. He also pointed out that ITID's last audit came back perfect. "That was fantastic, no comments, no nothing, which is a far cry from when we started four years ago," he said.
Enriquez said he has gained knowledge of the workings of the district in his past four years. "I can tell you, in the last four years, I don't think we've had any negative newspaper articles at all, compared to the previous four years," he said. "It has all been positive. We are moving the district forward and people are happy."
Enriquez said a professional staff has been developed and the ITID web site has been improved, with a lot more transparency, which he said was one of the issues when he ran four years ago.
The board also has made hard decisions, he said, such as approving the connection of the State Road 7 extension to Persimmon Blvd. with assurances from the county and state that the road would be extended to Northlake Blvd. eventually. "That was a tough decision, so we need to finish the job now, completing that road to Northlake," he said.
"I ask myself this question: 'Is the district better off now than it was four years ago?' and 100 percent it is, and that's the combined leadership of the board," he said.
Although Damone has not yet drawn a challenger, she said she is prepared to mount a campaign. However, she is not looking forward to the prospect of running at the same time as the presidential election, which requires more expense in order to draw name recognition of voters who are primarily there to vote for their presidential choice.
"I would actually like to see the district elections moved to March, but I've been here before, and I can do it again," Damone said.
Damone said the past four years have been the most successful for her as a supervisor. "We've turned around a district that was in fiscal turmoil," she said. "We've proven to be fiscally responsible. We've hired an administrator and administrative staff that are more than qualified and have excelled."
The board is in the process of developing the community center, which has been in the planning for more than 10 years, she said. "We've improved and repaired our relationship with Palm Beach County," Damone said. "We reduced taxes by 20 percent the last five years. We were not forced to do that. Our board was in a position that we chose to do that. That's significantly different than the municipalities."
She added that the district has increased the level of service on roads and replenished its reserves.
Damone, who is president of the Western Communities Council, said the district has also improved its relationship with neighboring communities. "Indian Trail is a respected improvement district in the county and throughout the state once again," she said.