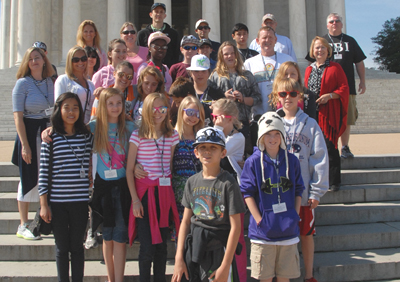 Recently, 93 sixth-grade students, parents and faculty from the King's Academy and Clewiston Christian School embarked on a historic tour of the nation's capital. Unforgettable memories and friendships were forged on this four-day trip as well as a better understanding of American heritage.
Some of the sights the group visited include the United States Capitol, the United States Supreme Court, the Tomb of the Unknown Soldier at Arlington National Cemetery, the United States Holocaust Museum, and the national memorials in the National Mall and Memorial Parks. These sites made history come to life for the sixth graders as they gained a new perspective on sacrifice and the cost of freedom.
"We enjoyed a wonderfully educational trip and learned so very much about our Judeo-Christian American heritage and the sacrifice of those who have died to protect it," TKA Elementary Principal Jon Otto said.
To many, listening to a presentation by "Martha Washington" at Mount Vernon gave insight into the life of the first president, George Washington, and showed how God used both of them to impact the nation. One participant was in awe that she was "standing in the very rooms that George Washington called home."
Also, TKA students Michael Hubman, Gracie O'Connor and Ben Oxford, along with Clewiston Christian student Dylan Patel, participated in a moving wreath-laying ceremony at Arlington National Cemetery's Tomb of the Unknown Soldier. They received this honor by submitting essays on the topic of "Why I Love My Country" and subsequently having their essays selected from all of the sixth-grade entries.
Students had a wonderful time on this trip and gained a better understanding of the nation. This fundamental knowledge will help them become better citizens and value the freedoms that so many have sacrificed for.
For more information about the King's Academy, visit the school's web site at www.tka.net.
Above: A small group from TKA at the Jefferson Memorial.