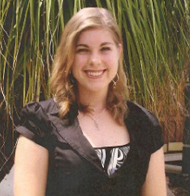 Ringling College of Art and Design student Marissa Ullman was recently awarded an Anchor Scholarship, after having competed with 91 applicants.
This scholarship recognizes the academic and personal achievements of dependents of Surface Navy sailors across the country.
Ullman, of Wellington, is a three-time recipient of the Anchor Scholarship. She returns to the Ringling College of Art and Design in the fall as a junior. She is pursuing a degree in fine arts and computer animation with a minor in business of art and design. Ullman's scholarship is sponsored by BAE Systems, Land & Armaments.
The Anchor Scholarship Foundation has grown from four $500 scholarships awarded in 1981 to 35 scholarships, totaling $73,000 in 2012. To date, the foundation has awarded almost 335 scholarships, totaling $450,300.
For more information about the Anchor Scholarship, visit www.anchorscholarship.com.