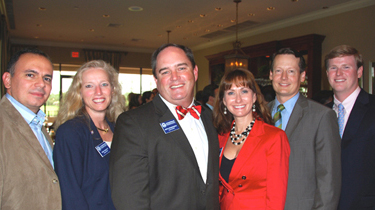 Leadership Palm Beach County honored graduates of its Adult Leadership Program on Thursday, June 7 at the Breakers West Country Club.
The Adult Leadership Program exemplifies LPBC's mission to identify and unite diverse leaders in order to increase understanding of countywide issues and improve participants' ability to lead effectively. The Class of 2012 is the 28th class of local leaders to complete the program. Its 47 graduates join a network of over 1,000 alumni.
Leadership alumnus Monte Lambert is the vice president of Solutions at Forte Interactive Inc. and co-directs the Adult Leadership Program. He described the organization's alumni network as representing "the true investors and stewards" of the county. "Nothing I have ever done has given me the sense of ownership, the quality of friends, or the value to my business than being involved in Leadership Palm Beach County," Lambert said.
Each year, LPBC selects up to 50 leaders to participate in a unique 10-month experience that grants class members uncommon access to influential people and significant sites throughout the county as well as hands-on experience with major local industries and community issues.
Christina D'Elosua, LPBC executive director and Class of 2012 graduate, described the graduates' experience. "This year's class members were not only exposed to our county's top leaders through the impressive class schedules, but they were immersed with their fellow leaders throughout the year," she said. "The fact that top-level professionals take time out of busy schedules to learn more about the county and collaborate with other leaders to impact our community is truly inspiring."
The class meets once per month to examine social, economic, and political issues within the county. Each curriculum day encourages in-depth exploration of specific topics, including civics and government, business and media, and agriculture. Even participants who have lived in Palm Beach County for generations make new connections throughout the year.
"Leadership Palm Beach County truly exceeded my expectations and was very different than other programs I have been involved with," said Ben Boynton, a Wellington financial planner. "As a fourth-generation resident of Palm Beach County, I couldn't believe how much I was able to learn about the inner workings of the county."
Despite their very different professional backgrounds, LPBC alumni share a common commitment to service. Community engagement of this kind is a guiding principle of LPBC and one that the organization empowers participants to take on through the program's civic engagement projects.
As part of the LPBC leadership program, class members select civic engagement projects that utilize each class' capacity to address the needs and goals of nonprofit organizations in Palm Beach County. In 2012, leadership class members worked closely with representatives from the Economic Council of Palm Beach County, Family Promise, the Palm Beach County Cultural Center and the Spirit of Giving Network to help these organizations reach strategic goals. Class of 2012 members helped partner organizations create brand messages and marketing strategy, develop an informational toolkit for volunteers, conduct a comprehensive artist's needs assessment throughout the county and provided key recommendations on target markets.
Robin Henderson, a senior vice president at Bank of America Merrill Lynch, summed up her experience. "Leadership Palm Beach County has been without a doubt the best and most rewarding and fulfilling endeavor that I have ever experienced in my 27 years of living in Palm Beach County," she said. "I will definitely be committed to this organization for years to come by being involved with various committees, and other Leadership Palm Beach County initiatives. I simply cannot say enough good things about my personal experience with LPBC."
For more information, visit www.leadershippbc.org.
Shown above are LPBC local graduates Dr. Juan Ortega of Land Design South, Terri Wescott of Accudial Pharmaceutical, Keith Wedgeworth of Wedgeworth Farms Inc., Sheila Prieschl of Marine Exhaust Systems Inc., Benjamin Boynton of the Boynton Financial Group Inc., and Matthew Hoffman of the Sugar Cane Growers Cooperative of Florida.