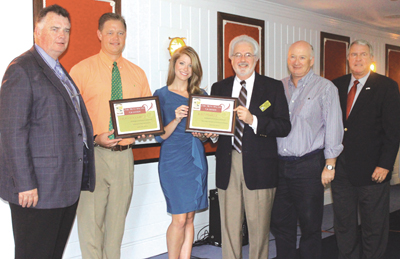 Members of the Wellington Chamber of Commerce learned important facts about hurricanes and what to look for this hurricane season at a luncheon Wednesday, June 20 at the Wanderers Club.
Meteorologist Kait Parker of WPTV NewsChannel 5 was the guest speaker, offering her expertise on hurricanes.
"We got a bit of an early start this year," she said, noting that a third storm had been named last week. "Hurricane season starts whenever it wants to. It's a statistical average, so that's why we say June 1 through Nov. 30. But they can occur before or after then."
Parker noted that the Atlantic hurricane season peaks in September. "That's when we see the peak activity in the Caribbean and the Gulf [of Mexico] that can impact the U.S.," she said.
Hurricane seasons are affected by patterns in the atmosphere and temperatures in the water. "For June, we see the most development in the Gulf of Mexico and near the Yucatan Peninsula," Parker said. "That's where we have the warmest water."
In July, she said, typically there is more development out in the Atlantic, which can swing up the east coast or into the Gulf of Mexico. Then, in August, hurricane activity begins to ramp up with developments in the Caribbean.
"It's really August and September when we start to watch the thunderstorms forming off the coast of Africa," she said. "Those are the ones that pick up speed, start to get a little spin, and that's often when they gain a lot of strength. They have the entire Atlantic to cross with plenty of time over warm ocean waters."
Parker noted, however, that the most hurricane strikes on Florida occur in October. "We've had 19 hurricanes that have struck Florida in October since 1859," she said, adding that it has been seven years since even a Category One hurricane affected the area. "This is our seventh year since we've seen a Category One or greater. On average, it's every six years that we see a storm."
Parker pointed out that some years can be much lower, while other years, like 2004 and 2005, see far more than six storms in the area.
"We have had seven quiet years," she said. "It could be 10 years. It could be 20 years. It could be this year."
Though the National Hurricane Center puts out data each year about how many storms are expected to form each year, Parker said the important factor is where the storms go.
"The fact that we have three named storms already doesn't mean anything for the rest of our season," she said. "All that matters is where they go."
Parker noted that most people couldn't name one or more storms from 2011 or 2010, even though both years had an above-average number of named storms.
"In 2010, we had a record number of named storms," she said, "but we can barely recall a storm from it."
But in 1992, when Hurricane Andrew caused devastation throughout South Florida, there were only six named storms total, she said.
Hurricanes are affected by atmospheric patterns such as jet streams and the Bermuda High, she said.
"If the high is further to the south, it will direct the storm toward us," Parker said. "If it's to the north, it will send it up and along the east coast. Where this area of high pressure is located is one of the most important things when forecasting where a storm will go."
She said that dry air coming down across the U.S. from the jet stream helps keep hurricanes from forming.
"Hurricanes need a very warm, moist atmosphere to form," she said. "This dry air will tear them apart."
Parker noted that when it comes to severe weather, local news stations are often better informed than national stations. "We know the area," she said. "We know what information is going to be important for you and your family to stay safe during the storm."
She encouraged everyone to pick up a hurricane guide and prepare an action plan early. The plan, she said, should include provisions for pets, food, water and more.
The time to prepare is before the storm, she said.
"When we issue a hurricane watch, that's when you should be putting up your shutters and making sure you have all your supplies," Parker said. "By the time it's a hurricane warning, you should be getting ready to hunker down."
Shown above: Luncheon sponsor Dr. Randy Laurich and guest speaker Kait Parker receive certificates of appreciation from Wellington Chamber of Commerce officials.