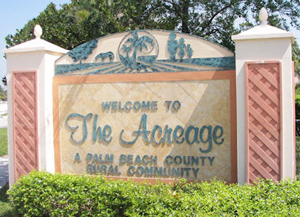 The Indian Trail Improvement District Board of Supervisors last week agreed to send a letter to Palm Beach County Commissioner Jess Santamaria asking him to arrange a presentation on proposed revisions to the county's livestock ordinance.
The changes under consideration by the county would severely restrict if not prohibit the keeping of livestock on less than 2 acres of property.
The ordinance revision requires a 25-foot setback to keep livestock, which would all but prohibit keeping livestock on property of 2 acres or less.
The issue arose when a resident of Jupiter Farms complained about a neighbor who was keeping roosters, which resulted in county staff drafting an ordinance that would prohibit raising livestock on smaller parcels.
ITID President Michelle Damone said she and Supervisor Jennifer Hager attended a Land Use Development Committee meeting on June 13 where they reviewed language that would establish the setbacks in the agricultural and exurban areas. "I found out at the end of the meeting that there is really more to it than what's written," Damone said. "We really need to discuss this as a board because it's moving rather quickly and going in front of the county commission in July and August."
Damone said she felt they need to write a letter to Santamaria and the Land Use Development Committee asking for a presentation at the ITID office.
"In the land use code, they found a glitch that doesn't allow anyone under 2 acres to have livestock," Damone said, noting that horses are exempt.
Damone said that the Jupiter Farms woman was cited for the crowing rooster but that Commissioner Karen Marcus looked into the ordinance more deeply and found that there was no provision allowing livestock such as goats, pigs, poultry or sheep for anyone in the agricultural residential area on less than 2 acres.
"The language that they are writing is somewhat unclear, and some of it needs to be rewritten or reworded," said Damone, who added that one provision would prohibit the retail sale of eggs or other animal products on site. "This board really needs to take action to protect our residential ag, because we're really the ones most affected because most of us are under 2 acres. We need to be part of the process."
Hager said she did not understand why the issue had come up so abruptly. "All of a sudden, if you have less than 2 acres you can't have any animals," she said. "That's not going to fly out here."
Supervisor Carlos Enriquez made a motion to write a letter to Santamaria asking for a presentation, and it carried 5-0. ITID Attorney Charlie Schoech pointed out that the district has no land use authority, but Damone said she was merely asking them to make a presentation for residents.