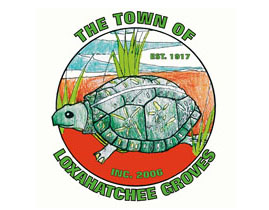 The Loxahatchee Groves Town Council eased enforcement of restrictions on home-based businesses Tuesday until it could amend its Uniform Land Development Code to allow activities such as that of residents Jerry and Janet Eick, who were cited for selling hay largely to their neighbors.
Councilman Ron Jarriel added the item to the agenda, although the meeting room was full of residents who had been alerted that the matter would be discussed that evening.
"They sell hay on their property," Jarriel explained. "I hate putting things on [the agenda] at the last minute, but I was made aware of it Saturday evening, and I felt it was important. They've been sent a notice that they must cease all sales, so I went out to check it out myself."
Jarriel noted that one of the primary goals of the ULDC was to not unnecessarily disrupt home businesses in the town.
Jarriel said the family has lived in Loxahatchee Groves for about 30 years and has been selling hay for 17 years. "When they first started, they were questioned by the county," he said. "The county came out and did an inspection. They were told to take care of some things, and they haven't had any trouble since."
However, a complaint from someone launched a town code enforcement action.
Jarriel said the family operates as a bona fide agricultural business on B Road raising horses, and that most of the hay is used to feed their own livestock.
"From the road, you wouldn't know that they had a hay sale there," Jarriel said. "They've got a beautiful piece of land, and most of the hay sales [are to] their neighbors. When I can buy hay a lot cheaper from my neighbor than I can at the Red Barn or Tractor Supply, I appreciate that break."
Jarriel said that when the council passed the ULDC, members agreed that if it started taking away from the benefits that residents legitimately enjoyed beforehand, it would be corrected.
"I apologize that it got to the point that they received a notice, and I wasn't aware of what was going on," Jarriel said.
Mayor Dave Browning read a letter from the Eicks, stating that they had lived in Loxahatchee Groves for 30 years and originally bought hay for their horses and cows.
"We have always given hay to people who could not afford to feed their animals," they wrote. "We support many neighbors in their time of need. It would not only be a financial hardship for our family if we were not able to continue our hay business, but this would also cause hardships for many of our neighbors."
In the letter, the Eicks stated that they barter with neighbors for things such as horseshoeing, horse training, dirt, mechanical work and care for animals when they are away. "Many of our neighbors and ourselves could not afford this unless we did barter," the letter stated.
Jarriel said he would like to figure out how to solve the problem. Town Attorney Michael Cirullo said that the council could declare a moratorium until they've approved an ordinance correcting the issue.
"When given direction to review an issue that has come to you, we are given specific directions to address that issue," Cirullo said. "In the meantime, we either don't initiate or we don't continue that enforcement until we come back to you for further direction."
Cirullo said the council could approve a new section of the code granting hay and related sales, or add a section for conditional uses. "We could bring back some options, and you could tell us what you think," he said.
Councilman Jim Rockett said the situation is akin to what Loxahatchee Groves stands for and that when they went through the process of constructing the ULDC, they tried to follow certain themes.
"If I was to pick a type of neighbor that I would like to live next to in this community, this would be my choice," Rockett said. "I would like to restore their operation until we come up with something else."
Browning said that when they first put the town's comprehensive plan together, they had agreed that existing operations would continue as long as they were not illegal.
"We were really talking about things that were bad on the environment," he said. "There were people out here stripping cars, and things like that, and if they were not blatantly bad for the community, we were not going to shut them down, and I think that applies in this situation."
Browning said that interfering with residents' lives was not the intent, as long as their activities did not negatively affect neighbors. He said it was wrong to cite someone "where the neighbors have no problems, and we have not heard of any complaints from neighbors."
Rockett suggested that an amendment could be crafted that would allow property owners to engage in bartering and trade as long as they are residents conducting the activities themselves and are not actively advertising.
During public comment, Mary Ann Miles, who lives next to the Eicks, said she had no complaint. "If anybody should have a complaint, it should be me, and I don't," Miles said.
Jarriel made a motion for staff to review the ULDC and formulate options to address the issue. The motion carried 3-0 with Councilman Tom Goltzené and Vice Mayor Ryan Liang absent.
Town Manager Mark Kutney said he would tell officers to put a stay on code enforcement until the council addresses the issue.
In other business, the council approved a preliminary reading of a moratorium on land use amendments until Nov. 30 while staff and the council review its comp plan to refine provisions that allow commercial development. The proposed ordinance exempts any such applications that were pending as of April 17, which include those for the property at the corner of Southern Blvd. and B Road, where plans are underway for the fifth Palm Beach State College campus. It also exempts the town-initiated amendments that are likely upon completion of the review of the comprehensive plan by the town during the time of the moratorium.