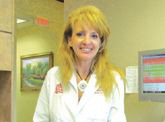 Celebrating its 10-year anniversary, Perfect Smile Dentistry is welcoming everyone to join in the festivities.
VIDEO: Perfect Smile Anniversary
In celebration of the milestone, the practice is hosting an evening of refreshments, food, raffles and many free giveaways on Wednesday, July 11 from 5:30 to 7:30 p.m. at Perfect Smile's Wellington location, 12300 South Shore Blvd., Suite 208.
Dr. Rasmi Akel, who owns the practice with Dr. Barbara Bates, encourages people to attend for a chance to win one of the many great prizes. "We are going to have a couple of raffles, and one of the raffles is going to be for eight veneers," he said. "If you don't want the veneers, you can actually gift it to somebody else that you know. Then they can come in for a consultation."
Other giveaways include an electric toothbrush, a wine basket, a take-home whitening kit and a certificate for $50 off any service, given only to the first 50 attendees.
Akel and Bates founded Perfect Smile Dentistry after attending dental school together at Nova Southeastern University. The dentists opened their joint practice shortly after graduating in 2001.
Perfect Smile has been providing dental procedures to the community since 2002.
"We provide services for people all around the western communities, from the age of 3 to 103," Akel said.
With a variety of comprehensive procedures, the practice is always evolving with the latest techniques. Services include cleanings, root canals, extractions, teeth whiting, dentures and partials, crowns, bridges and Invisalign, just to name a few.
Akel attributes much of the practice's success to its patients. "In the beginning, we had no patients," he said. "We did not buy this practice from somebody or come with our own patient base."
Bates also thanks the Perfect Smile Dentistry associates, hygienists, dental assistants and staff for their contributions to the overall growth of the practice.
"We have a very pleasant and efficient staff," she said. "The patients come in contact with a lot of people, and it's important that they have a great experience with everyone they come in contact with."
Perfect Smile has grown along with the community. "Over the 10 years, we have seen kids who have grown with us from being 3 or 4 years old, who are now teenagers getting ready for college," Akel said.
Many of the patients have been there since the beginning. "I'm really pleased as to the way the practice has grown," Bates said. "We have patients who have been coming here since the day we opened. Then they started bringing their families, friends and neighbors, which we really appreciate."
Akel is very thankful for the trust these patients have placed in Perfect Smile Dentistry. "Our patients trusted their dental health to our hands, and we proved to them that we are capable of providing the best dental procedures," he said.
With close connections to the community through sponsorship of local sports teams and various events, Perfect Smile believes in giving back to the community it serves. "Whenever our patients ask us to support a local event or team, we do it," Bates said.
It is this close relationship that has turned patients into friends. "We are more like family now with many of our patients," Akel explained. "Just to see how even the children have grown, and they are on their way to becoming the next generation in the area."
Perfect Smile has been keeping up with the latest technology in an industry that is constantly changing. "Every day there is new material, and we always attend continuing education courses to see what new materials and programs are available," Akel said.
The practice has just updated its computer software to the new Dentrix system, which shows the patient and the dentist three-dimensional charting of all teeth and surfaces.
"It makes it more educational," Akel said. "We always try to bring in new material for our patients while educating them on all the different types."
Perfect Smile Dentistry has significantly grown over its 10 years. In 2006, the practice opened a second location in Boynton Beach (7593 Boynton Beach Blvd., Suite 200), and also has added an experienced associate, Dr. John DeStefon, to the Wellington location.
"This practice in Wellington has pretty much been our baby," Bates said. "This is where we started, and we try to stay involved in the community to continue to grow with it."
With many hopes for the future, Bates anticipates more support from the community. "We want new people in the area to know that we are here, and to continue offering the best possible service we can," she said.
Akel is proud that Perfect Smile Dentistry has reached this important milestone. "We really know our community, and we really enjoy knowing everybody, and we hope to be here for many more years to come," he said.
For more information, visit www.perfectsmiledentistry.com or call (561) 204-4494.