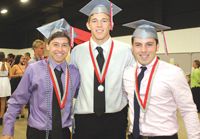 The Seminole Ridge High School Class of 2012 will be remembered as a caring, compassionate and talented group of students who are ready to soar on to their next opportunities. The school graduated 579 students Thursday, May 24 during its commencement ceremony at the South Florida Fairgrounds.
Principal James Campbell recalled that when he began his time as principal one year ago, many people questioned why he would want to work with 2,500 students every day.
"In this past year, I saw numerous students participate in charitable drives," he said. "I saw students come together to support each other in times of personal loss. I saw students who, after years of walking through a drab courtyard, took it upon themselves to change it."
After listing all the accomplishments he saw students make this year, he said he now has an answer for those who doubted his career choice.
"Inevitably, the good in our students outweighs the bad," he said. "The next time someone asks me why I want to work in education, I know the appropriate answer is, 'Why would I want to do anything else?'"
Campbell encouraged graduates to focus on reaching new goals. "A new phase of your life is starting tomorrow," he said. "Focus on the opportunities that lie ahead of you. Today will never happen again. Don't waste it with a false start or no start at all. You were not born to fail."
Senior Class President Taylor Godfrey, who will attend the University of Central Florida, reminded her classmates that hard work is as much a part of success as any opportunity.
"As we leave today, we strive to be our own person," she said. "We cannot just sit and wait for opportunity to knock. Success is not defined by opportunity plus luck. We must have the resolve to work hard at achieving our goals."
She encouraged them to cherish each moment. "Life is too short to waste," Godfrey said. "Although this door is closing, a new one is opening. It brings new adventures and experiences that we will remember for the rest of our lives."
Salutatorian Michael Canlas, who will attend the University of Florida, recalled the night before he began his freshman year.
"I just knew I had to get through it," he said. "We have not only made it through, but we have accomplished so much more."
He recalled the numerous accolades students had won with state championship titles in sports and other extracurricular activities, as well as other achievements. "I'm proud to say that not only do we excel in what we do, but we go pretty hard," Canlas said.
Valedictorian Rachel Hand, who will attend the University of South Florida, said that she was apprehensive coming from a home-school environment into Seminole Ridge. Now, she feels the same apprehension about leaving.
"We're losing our familiarity," she said. "It will never be the same. There's a large part of me that is sad about that."
But now the Class of 2012 will have new opportunities, she said.
"While we may be losing much of what we've come to know, we're gaining something new," Hand said. "Now we're on to a whole new schedule — a whole new life. It's not going to be like high school. In just a few moments, you'll be stepping into unknown territory. No longer will the world view you as high school kids. They'll view you as adults with responsibilities."
Hand encouraged her peers not to let apprehension of the unknown limit them.
"Take it from someone who came into a new setting and is grateful for the experience: Fear of the unknown only ever holds you back," she said. "So, don't be afraid. Embrace the next challenge. It's experience that makes us who we are."
Newly appointed Palm Beach County Schools Superintendent E. Wayne Gent told graduates not to be afraid to make mistakes.
"Don't make any excuses," he said. "You're going to make mistakes, and you're not always going to be successful. But if you worry about making a mistake, you've already made one. Failure won't hurt your health, but feeling like a failure could."
He encouraged them to continue to be a caring, compassionate and giving group of individuals.
"How do you give the world and yourself the best you have?" he asked. "The key word is in the sentence: by giving. Giving to others has health benefits. It increases your self-confidence. It combats depression. It helps you live longer."
Gent said that each student is his or her own artist, and their lives will be their masterpiece.
"Each one of you is a masterpiece," he said. "As the artist, you need to create and develop a life that will affect this society and others in a most positive way."