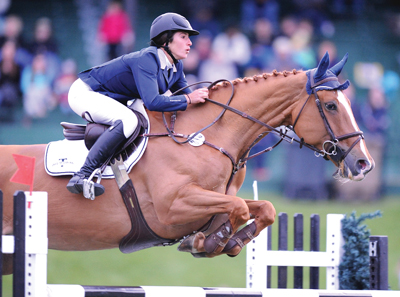 Lauren Tisbo of Wellington scored a top-three finish in the $175,000 Nexen Cup Derby held Sunday, June 10 during the CSI5* Spruce Meadows National Tournament in Calgary, Alberta, Canada.
With a well-deserved reputation for being one of the toughest derby events in the world, only 16 riders attempted to conquer this year's $175,000 Nexen Cup Derby. Featuring the same grueling course each year, only three clear rounds have ever been posted in the event's history.
That number didn't change in 2012, with Richard Spooner taking the win after incurring one time fault with Cristallo. Legendary American competitor Katie Monahan-Prudent guided V to a nine fault finish for second place while Tisbo had the fastest 12-fault effort to place third riding Creme Brule.
"This was by far the smoothest round I have had with her in a derby; she was very focused today," said Tisbo, who was contesting her third consecutive $175,000 Nexen Cup Derby with Creme Brule. "I let her get away with me on the way to the brown ditch oxer at fence 11, and then she had an unlucky rub coming out of the devil's dyke. I also had the last fence down, but that was my fault. It was going so well, I think I got a little distracted!"
Tisbo and the 12-year-old Selle Francais mare, owned by Tequestrian Farms of Wellington, began their partnership during the 2010 season.
"I've learned that the most important thing to do in order to be successful in a derby is to pick up a nice pace from the beginning and keep the same pace throughout the course," said Tisbo, who was one of five riders to finish under the time allowed by stopping the clock in 154.76 seconds. "I was quite fast, and had one of the fastest times of the day."
While the $175,000 Nexen Cup Derby course features numerous natural obstacles such as the steep bank and the dreaded devil's dyke, Tisbo opted not to train those obstacles before the event.
"I thought about taking her to train over natural obstacles in the spring, but she loves the derbies; it is the event where she really shines," explained Tisbo, who also placed fifth with Creme Brule in the $35,000 RBC Capital Markets Cup. "She had done other small derbies and I have done this event with her the past three years, so I didn't feel it was necessary."
Tisbo enjoyed a win earlier in the week when Welinde won the Friends of the Meadows Welcome on Wednesday afternoon. Tisbo and her 9-year-old Dutch Warmblood mare posted the fastest time, 68.90 seconds, over the course designed by Anthony D'Ambrosio to top a 42-horse starting field.
"The plan was not necessarily to go for the win, but to give Welinde a nice, positive ride in her first time back at Spruce Meadows since last year," said Tisbo, who placed third in the $10,000 Mercer Cup after jumping double clear with Welinde. "She was happy to be there and jumped great. It was a speed class and there were a lot of roll-backs and long gallops, and that really suits her. She was super."
It was Tisbo and yet another mare, La Centa, who took second in the $10,000 ATCO Electric Cup on Friday, June 8. Competing in the reconfigured All-Canada Ring over a track set by two-time Olympic course designer Leopoldo Palacios of Venezuela, Tisbo was one of seven riders to return for the jump-off.
With a clear round in a time of 39.03 seconds, Tisbo finished second to two-time U.S. Olympic team gold medalist McLain Ward.
"La Centa is such a good competitor; she's game for anything," Tisbo said of the 10-year-old gray Oldenburg mare that is returning to competition after an eight-month break. "McLain went ahead of me, so I knew the time to beat. I thought that Leopoldo did a great job of using the new bank and natural obstacles in the All-Canada Ring. It was fun to ride in there!"
Tisbo is continuing to compete at the internationally renowned Spruce Meadows show jumping venue all this month.
For more information on Tisbo and Tequestrian Farms, visit www.tequestrianfarms.com.
Above, Lauren Tisbo and Creme Brule compete in the $175,000 Nexen Cup Derby June 10 in Calgary.