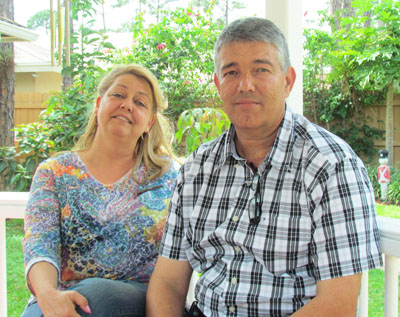 ABOVE: Wellington Elder Care owners Rosa and Ricardo Gutierrez.
The Wellington Village Council approved a measure Tuesday to expand senior housing facilities in the village.
Wellington Elder Care, which operates an assisted-living home on Lily Court, requested that the council change its zoning text to allow for a residential congregate living facility with up to 21 residents.
The change will create a new category of congregate living facilities in Wellington's code, especially for senior housing. The item was postponed in May because of council concerns about interior space, parking and getting senior input.
According to a village staff report, Wellington Senior Advocate Howard Trager reviewed and approved the changes. According to the report, "he was supportive of this type of facility to provide local and affordable senior housing. He was also familiar with the multifamily transitional areas, and this type of facility would be a positive alternative for many of the neighborhoods."
Kim Glas-Castro, agent for the applicant, said that Wellington Elder Care had addressed council members' concerns.
She explained that many of the standards under Wellington's code exceed those of the Agency for Health Care Administration. While AHCA requires 80 square feet for a single-occupancy room, Wellington would require 90. A double room for AHCA standards is 120 square feet, but Wellington's code would require 130.
Additionally, Wellington would require one bathroom for three residents, while AHCA requires one for eight residents. Wellington also requires 50 square feet of common area space per resident — almost double AHCA's standard.
Glas-Castro said that the nature of the facility fits Wellington's Neighborhood Renaissance zoning district and will benefit surrounding properties. "You have a commitment by the owners of these facilities to improve their property and maintain it," she said.
Additionally, she said that it provides affordable alternatives for seniors who want to remain in the area.
"It's not as expensive as full nursing or continuing care communities, or having in-house nurses come to their personal residences," Glas-Castro said. "It provides a service for our aging residents and their relatives. It enables residents to age in place and make the village a more sustainable community."
More than just expert care, she said that seniors in congregate living facilities benefit from social interaction with each other.
"The residents become a family unit," Glas-Castro said. "They share dining; they share social activities. For them to be appropriate in residential areas, they need to retain their residential quality so they don't become institutional in nature."
Because residents generally do not own vehicles, the neighborhood is not affected by parking problems, she said. "It's a fairly minimal impact on the neighborhood," she said. "You don't see a difference from the exterior."
There are 14 properties in Wellington that could fit the requirements for a similar facility, but Glas-Castro noted that approval of senior housing facilities will be site-specific and must go before the council. "You will be able to review each case as it comes before you," she said.
Vice Mayor Howard Coates said one of his concerns was that Wellington would require a 1,200-foot separation between these facilities. He suggested that could be considered an attempt to keep similar facilities from opening.
"That is 200 feet more than the minimum state requirement," he said. "Why do we want to be more restrictive in a way that ultimately results in there being less opportunities for these facilities?"
Planning & Zoning Manager David Flinchum said that Wellington's code has required a 1,200-foot separation between congregate living facilities for many years. "It's been there since I started," he said.
But Coates remained concerned that similar properties within 1,200 feet would be denied the same opportunity. "I can't support that," he said. "One of the concerns I've had from the beginning is that this ordinance was promoted for one property owner. I feel that it's anti-competitive to other properties in this community."
He asked that it be changed to a 1,000-foot separation to match Florida rules.
Village Attorney Jeff Kurtz said that if the council agrees on the change, it could be enacted.
But Councilman Matt Willhite said he wanted the separation to remain at 1,200 feet.
"We have a great model here," he said. "This is a great facility. But I'm worried about the other ones. I have no problems having higher standards. Having these separations are in our best interest."
He also was unsure about raising the number of residents to 21. "I still think 14 is a good number for the facility," he said. "It's a good use of the space.
Councilman John Greene said that he wanted there to be availability for a round-the-clock nurse, such as a hospice nurse, if a resident were to become very ill.
Coates agreed and made a motion to approve the amendment, changing the separation requirements to 1,000 feet and requiring a room for hospice purposes.
The measure passed 4-1, with Willhite dissenting.