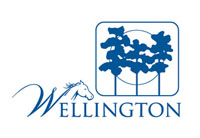 The Wellington Village Council voted unanimously Tuesday to implement new practices regarding the management of manure and other livestock waste.
The changes will help Wellington meet federal Environmental Protection Agency water quality standards.
The changes will govern how farm owners manage manure, require watertight storage areas, prohibit spreading untreated manure and tighten requirements for waste haulers as well as disposal sites.
Equestrian Master Plan Project Director Mike O'Dell explained that Wellington has continually updated its practices for managing waste over the years. "We're trying to be good neighbors," he said.
Council members were concerned about new regulations for haulers. The changes would require haulers to maintain records that identify the source of the waste, document the quantity taken and dumped from each farm, and include signed tickets from both the source and disposal site owners.
Councilman John Greene asked how it would be enforced. "Do we license the haulers through the village?" he asked.
O'Dell said that they did. "We're hoping to get the hauler's license and their approved locations to haul to put on our web site, so residents can go to our web site and see who is approved," he said.
Councilwoman Anne Gerwig asked whether it would be possible to regulate unlicensed haulers.
O'Dell said that approved haulers would be listed on Wellington's web site, garnering them more business from local farms. "The incentive would be to have their name and organization listed as an approved hauler," he said.
Gerwig questioned how Wellington residents are supposed to know what the new requirements are.
O'Dell said that it would take a process of educating both haulers and residents.
"Assuming this is passed, we will issue a notice to all haulers that have been in our system so they know what the new rules and regulations are," he said. "The second component is education."
O'Dell noted that Wellington will need to alert residents to pasture management and the benefits of composting in order to manage waste. Composted waste does not count as livestock waste, he said.
Gerwig asked if residents who want to compost manure to use as fertilizer would be subject to the same requirements, such as watertight containers. O'Dell said they would, noting that the goal is to have no phosphorus fertilizers.
Village Manager Paul Schofield explained that the changes were in response to a federal court order to reduce phosphorus. "We're dealing with what is a solid waste issue," he said.
Councilman Matt Willhite encouraged Wellington staff to continue working on the Equestrian Master Plan to address items such as this. "I want to get that master plan implemented," he said.
Willhite made a motion to approve the measure, which carried unanimously.