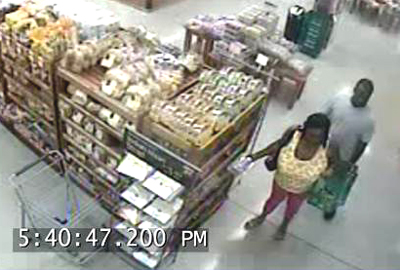 Palm Beach County Sheriff's Office detectives are seeking the public's assistance with identifying suspects wanted for theft after stealing a woman's wallet Sunday, June 3 at a food store in Wellington.
According to a PBSO report, the victim was shopping when unbeknownst to her, a black male and female close by were watching her. At one point, the victim turned away from the stroller she was pushing, and a black male grabbed her wallet and fled from the store with a second black male and two black females.
A witness who observed the theft followed the suspects as they left the store. The witness attempted to run after the suspect who stole the wallet. When the suspect discovered he was being followed, he ran through the parking lot and attempted to hide in the bushes behind a gas station. The other three suspects entered a beige Mazda MX6 and left the area, picking up the fourth suspect from the gas station.
Anyone who can identify these suspects is urged to contact Crime Stoppers at (800) 458-TIPS or text to tips@cspbc.com.
Shown above: The PBSO is seeking the identity of these suspects and their two accomplices.