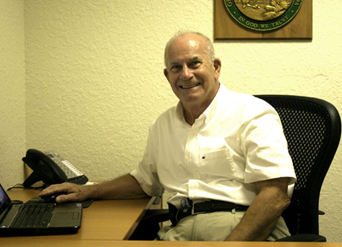 With a history of service dating back long before Wellington's incorporation, former Mayor Tom Wenham hopes to continue to play a role in shaping the community's future.
After retiring last month from his position with Palm Beach County Fire-Rescue, Wenham now embarks on a new career as executive director of the Wellington Preservation Coalition, an organization dedicated to preserving Wellington's way of life.
The organization will be making its debut at Wellington's Fourth of July celebration next week, where residents can learn more.
"I'm a firm believer that everybody has to give something back to the country and the community that they live in," Wenham told the Town-Crier Wednesday.
In 1953, Wenham gave back to his country serving in the U.S. Air Force in the Korean War. He and his wife of almost 60 years, Regis, married before Wenham enlisted.
The couple later moved to Wellington, and in 1986 Wenham got involved with what was then the Acme Improvement District, Wellington's pre-incorporation government.
"I was appointed to the Parks & Recreation Committee," he recalled. "I had the opportunity to give back to my community, so I did."
This began his more than two decades of service in the community. In 1989, he was appointed as Utility Review Committee chairman, a position he held until 1994, when he was elected to the Acme Improvement District Board of Supervisors.
Wenham was part of that board when Wellington incorporated in 1996, and he was elected to the inaugural Wellington Village Council that March. After being re-elected in 1998, he served two years as Wellington's council-appointed mayor. "I was selected as mayor from 2000 to 2002," he said. "During that time, we decided to change to an elected mayor."
Wenham ran for mayor in 2003 and won, forever memorializing him as "Wellington's first elected mayor." He served as mayor until 2008.
During his tenure, Wenham helped to shape Wellington into the village it is today, from incorporation through the development of the community's award-winning park system.
"My wife and I have seen the village grow from about 7,500 residents, to the 57,000 of today," he said.
At the same time, Wenham worked for Palm Beach County for 31 years. "I began working for the property appraiser in 1981," he recalled.
In 1995, he went to work for Palm Beach County Fire-Rescue, where he stayed until his retirement last month. "I took care of the 49 fire stations," he said. "It was a lot of fun. I had a great and talented staff behind me."
Now Wenham will act as spokesman for the Wellington Preservation Coalition, an organization started by residents Lou Jacobs, Victoria McCullough and Robert Coker.
"The common thread of the Wellington Preservation Coalition is to further the promotion of any and all activities related to the preservation and maintenance of the current character and nature of the Village of Wellington," Wenham said.
The nonprofit organization will lobby for smart growth within Wellington's borders. "We don't want to see all of the land used or destroyed," he said. "It's about keeping as much open space and green space as we possibly can."
To do this, the group will lobby local representatives and be a voice for those who want to see Wellington retain its charm, he said.
"We will lobby the council, and bring in people who share our point of view," he said. "We will be keeping track of all that's going on here in Wellington that would affect our way of life."
This applies to all residents of Wellington, he said, not just those in the Wellington Equestrian Preserve.
"It's for the entire village," Wenham stressed. "It's not just for equestrian or non-equestrian residents. It's for the entire village that I am working to preserve Wellington's way of life."
Additionally, the organization will help educate the community, both residents and elected officials, about how to preserve green space and practice smart growth.
Wenham stressed that the organization isn't anti-business but, rather, in favor of balanced economic development. He noted that he would be joining both local chambers of commerce.
"We're not against business," he said. "It's about smart growth, which also means about improving the quality of existing areas that may be older and have been around for a long time."
The Wellington Preservation Coalition will also have a charitable arm, helping out local organizations that benefit the community.
"I have funding in my budget that I will be able to give to charities," Wenham said. "We are supporting them because we would like them to support us."
On the Fourth of July, the coalition will have sign-up sheets for residents with an interest in the matter to be kept abreast of current and upcoming issues.
"We want to bring all Wellington residents together," he said. "Residents can sign up, and we'll keep them in the loop."
Wenham said that he hopes to be able to influence Wellington's future.
"I believe in preserving Wellington's way of life," he said. "This is our hometown. We love it here, and we want to make sure that it continues to be the best hometown in America."
For more information about the coalition, call Wenham at (561) 333-9843.
Above: Tom Wenham in his new Wellington Preservation Coalition office.