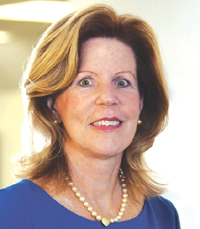 Palm Beach County Tax Collector Anne Gannon hopes that voters will see her expertise and success in public service and choose her on Aug. 14.
"We perform great service with the public," she told the Town-Crier.
Gannon faces a familiar opponent, former Palm Beach County Tax Collector Peter Carney, whom she succeeded when she took office in 2006. The winner of the Aug. 14 Democratic primary will effectively win the race, since the only general election opposition is a little-known write-in candidate.
Gannon first moved to Florida when she was working for Dole Fresh Fruit as an operations analyst. Later, she was a partner in a small manufacturing business in Delray Beach and then began work as a lobbyist.
In 2000, she was elected to the Florida House of Representatives, where she served for six years before running for tax collector, defeating Carney by taking 60 percent of the vote. Gannon was re-elected without opposition to a four-year term in 2008.
Gannon said that her top accomplishments since being elected include changing the culture of the office to be more client-central. "We changed to focus on the clients and learn what we need to do to become more efficient," she said. "To the public, that is the biggest change."
She has also worked to modernize, streamline and professionalize the office and its staff. If re-elected, Gannon said she would like to continue that process.
"We have only begun to put in place a performance evaluation system for our employees," she said. "When I took office, employees were just given the cursory evaluation."
Gannon said that she would also like to continue to modernize, noting that there are already plans to bring in new and better technology.
With a broad understanding of the tax collector's office, Gannon said she is the better choice for the position, asserting that Carney did very little in his short time as tax collector. Carney, appointed by Gov. Jeb Bush, served for less than a year after the sudden resignation of Tax Collector John K. Clark.
"When I went in there, after him being in office, there were really no changes," Gannon said. "He thinks accepting credit cards was a big change."
But, she said, there were issues to the structure of departments within the office. "The way they operated was in little kingdoms and queendoms," Gannon said. "They didn't work together; they didn't talk to each other. Everybody just operated in their own little silo."
But since taking over, Gannon said she has helped increase the flow of communication and trained employees in working together. "All of our employees are cross-trained and can do every kind of transaction," she said.
Gannon added that taking over the driver's license testing and renewal system has had challenges but that she believes her office has been successful. "Our driver's license campaign has won awards," she said.
Though Carney has criticized her use of the Manatron software system, Gannon said that the old system was not adequate.
"What the county had was a database," she said. "It wasn't a web-based system, and we wanted our [record systems] to talk. We wanted to be able to get a global view of every piece of property in Palm Beach County."
Though Gannon said she still uses the county's system — and must pay for it –— it poses its own challenges.
"I personally don't think it's a very good system to use," she said. "The county set the system up 20 years ago. I don't know who agreed to buy into it, but I certainly wouldn't buy into it. It's about what we need to do to be more efficient."
As pointed out by Carney in his campaign, Gannon admitted that there were challenges with switching systems. "When you transfer 20 million records, you're going to have challenges with any computer system," she said.
One of the major issues was the transfer of delinquent properties. Gannon said that the county would create a different code for each record every year. "It took the provider a while to figure out the codes for each year," she said. "It was more involved than we thought."
Gannon addressed criticism that she implemented the new system because she did not want to be under the county's umbrella.
"When I was elected, I promised to look at the most effective way to do business," she said. "The county is not the most effective way to do business. When we need a product, we don't need to be told that we have to wait a year."
She said that when working with the public, efficiency is key.
"We serve the public every single day," Gannon said. "I believe that we need to be the most efficient and cost-effective we can be."
Criticism has also come from the office being unable to accept credit cards in person. Gannon said that it was an issue with the credit card companies.
"We've had it in our business plan for two years," she said. "But there was a lawsuit in North Florida that Visa initiated against one of our tax collectors."
Gannon said that Visa, which controls 80 percent of the credit card market, sued because they do not allow places that accept Visa to accept competing credit cards.
"If they allow you to use them, and you pay them fees, they do not want you to use anyone else," she said. "I can tell you that is not going to be what we do. We will either accept all of them, or just the ones that sign a contract with me."
Gannon pointed out that taxpayers can use credit cards online because it's run through a third party. "That is why the public pays a fee," she said.
Unfortunately, it's not legal to use the online credit card processing system in the offices, she said.
"Our end goal is to really develop an in-house system, so that our clients don't have to pay a fee," she said. "Or if they do, that it is a small fee that goes to the tax collector. We just don't have the ability to do that right now."
Regarding whether the Palm Beach County Office of the Inspector General should oversee the tax collector's office, Gannon said that she already has an ethics policy in place.
"My office had the first ethics policy, and it's tougher than the county's," she said. "I'm not going to give up the authority I have over my office for the inspector general to come and investigate. I'm the first to fire employees if they're found doing any sort of malfeasance."
Gannon said that she has helped maximize tax collections by enforcing title registration and bed tax collections, among other things.
"We had titling and registration going to Miami-Dade and Broward counties," she said. "That was due to the previous tax collectors' refusal to deal with car dealerships. We have seen our titling and registration fees raise $400,000 a year."
She also said that she's put pressure on employees to enforce bed tax collections.
"We were lackadaisical," she said. "But we have started seizing property and bank accounts."
Gannon said she is a hard worker who takes on huge issues that she believes are right, even if there are consequences. "I think it's the right thing to do for the public," she said.
She said that though she thinks Carney is a nice man, he is not prepared to be tax collector. "Having come in after him, I'm not sure he understands the tax collector's office," she said.
Ultimately, Gannon said that she will continue to work for the public and put public service first.
"I think we give great service," she said. "That has been our central issue in the last six years. I don't believe that because it's a government office, you should get poor service. We have become the standard for service in the tax collector's offices."
For more information, visit www.reelectannegannon.com.