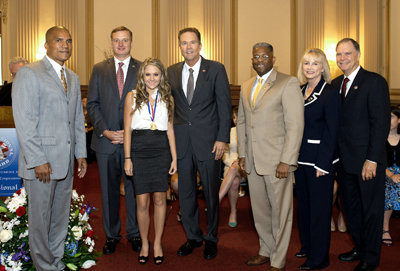 Royal Palm Beach resident Melissa Bierman was among several local students to receive the Congressional Award Gold Medal during a ceremony held June 20 at the United States Capitol.
Earning the Congressional Award Gold Medal requires a significant commitment as each student must spend two years completing at least 400 hours of community service, 200 hours of both personal development and physical fitness activities, and a four-night expedition or exploration.
"To earn my Congressional Award Gold Medal, I completed over 400 hours of voluntary public service work at a local nursing home," Bierman said. "I worked with the elderly, assisting them with their recreational activities and visiting with them to provide companionship and assist in any way that I could. For personal development I studied different types of art and artists, and worked on improving my own artistic skills by sketching and assisting in a middle school art class. For my physical fitness goal, I improved my volleyball skills. I set a goal to improve my vertical jump as well as mastering a jump serve. Lastly, for my expedition I planned a camping trip in Loxahatchee. While camping, I learned about the environment, the effects that people and littering have on the wildlife, and how to set up a tent and cook food over a fire. The Congressional Award program showed me that it is good to set goals and realize that I can accomplish them with perseverance and a giving heart."
Above: Melissa Bierman with Paxton Baker of CENTRIC and Congressional Award Foundation chairman, Congress members Tom Rooney (R-District 16), Bill Posey (R-District 15), Allen West (R-District 22), Sandy Adams (R-District 24) and Vern Buchanan (R-District 13).