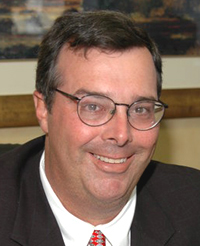 Former Palm Beach County Tax Collector Peter Carney wants his old job back, and he is challenging incumbent Tax Collector Anne Gannon in the Aug. 14 Democratic primary.
The winner of the primary will effectively win the race, since the only general election opposition is a little-known write-in candidate.
Carney, a real estate attorney, spent less than a year as tax collector in 2006. Then a Republican, Carney was appointed to the job by Gov. Jeb Bush after the sudden resignation of former Tax Collector John K. Clark.
Before losing the 2006 election to Gannon, Carney said he made improvements to the computer system and set in motion a number of other needed changes that were not followed through on when the incumbent took office.
The first thing he did was establish a link between the tax collector's office and the property appraiser's office. "The property appraiser had a link to the clerk's office, but there was no link between the property appraiser's office and the tax collector, which made no sense, because if you're in the business, you're going to be going back and forth between the two web sites all the time," Carney said. "I said let's make that change right now."
Carney also noticed that the tax collector was not doing e-checks. "Everyone else was doing e-checks," he said. "I said, 'Let's get that done.'"
Carney said that unlike the incumbent, as an attorney, he is a customer of the system. "I continue to be a customer of the system, and I know what customer service is all about," he said. "I know that it's critical that information is disseminated accurately and timely, and that is one of the problems that this tax collector's office has had."
The last thing he was working on before leaving office was to accept debit and credit cards. "We were in the final stages of having that happen, and then the 2006 election came along and Anne came in," he said.
Carney is critical of decisions Gannon has made regarding the office's computer system. "I think Anne really wanted to separate herself from the county," he said. "She'd seen what the clerk did with the computer system, so Anne made a point of doing the same with the tax collector's office, to the point that they've shifted the current part of the taxes to this system called Manatron."
He said the problem is that the Manatron system is not compatible with the old system and does not give accurate numbers for delinquent taxes.
Although Manatron is used by many other counties in Florida, Carney said Gannon chose a newer package that was not yet proven. "Every time there is a problem, they have to have somebody build a software module to fix it," he said.
Carney said he thinks the Manatron system is probably at the root of problems Gannon wants to blame the county for, including the phone system.
"The information is not due to the phone system," he said. "It's due to the operation of your centralized computer system that's not performing the way that it should."
The information does not flow quickly enough to the clerks or the people on the phones, Carney said, so the wait times get longer and everything backs up. "It has nothing to do with the phone system," he said. "But when you've spent $4.6 million on a program, the last thing you want to do is admit it doesn't work. It's easier to blame someone else than admit you have a problem."
Carney has a bachelor's degree in economics from Princeton University, a law degree from Boston College and a master's degree in banking law from the Boston University School of Law. He moved to Florida in 1993 as a tax specialist after working as deputy counsel for the Massachusetts state treasurer.
In addition to his law practice here, Carney is also general counsel and chief financial officer for a wealth advisory company.
"My work life interacts with the tax collector's office on a daily basis, because a lot of my work is centered on real estate," he said. "Therefore, I need to get information accurately, and that is one of my biggest problems, and I'm not the only one having this problem."
Carney lists his top accomplishments as serving his customers and doing things accurately and in a timely manner. "I have clients come to me based on my reputation that I'm efficient and accurate," he said.
If elected, Carney said he would not spend $400,000 a year on public relations and marketing for the office. "I'd take that $400,000 and put it where customer service counts," he said, adding that he would not rule out scrapping the Manatron system because he thinks the office has not received what it was promised.
Other changes he would consider include allowing appointment times for all tax collector functions. He added that the office's report that driver's license lines have gotten shorter are not true, explaining that he was at the South County office recently where the tax collector's office reported a waiting time of 22 minutes, but people coming out had waited an hour.
"Has it gotten a little smoother? Yes; however, it's the philosophy behind how to get people in and out where your problem is," Carney said. "You may catch a day where you can get in and out quickly, but the majority of the time that won't be the case."
Carney is also frustrated that Gannon sent 60 percent of the office's printing to a firm in Orange County, which she said saved the office money, but he said that resulted in the county having to pay double for the remaining printing.
"Let's say, hypothetically, she saved money," he said. "She didn't, because she took 60 percent of the printing away from the county. The 40 percent now has to pay double what they normally have to pay, because the county bought the software and all the hardware to print for the clerk, the property appraiser, the tax collector and all of Palm Beach County. When the tax collector left, it doubled all the costs."
Carney stressed that his decision to leave the Republican Party did not have anything to do with his decision to run for tax collector.
"The first time I registered to vote was in 1980 when Reagan was running for president," he said. "Back then, the Republican Party had a big-tent philosophy, bringing in a lot of diversity. That started to wither away."
When the Tea Party wing rose to power, Carney decided it was time for him to leave the party. That was more than a year before he decided to run.
Carney, who first ran for tax collector in 2000, said he was busy with his businesses and did not particularly care to run again, but several people frustrated with the operation of the office asked him to.
"I know this office; I know what it could do under the right leadership. I ran in 2004 against John Clark because the office was not living up to its potential. I think we should always strive for the best," he said.
He acknowledged that running against an incumbent is not an easy task, but he is frustrated that the office appears to be promoting the office holder as opposed to promoting customer service and getting the correct information out to customers.
"I want to make this office better because I have a vested interest in this office," Carney said. "I have been a customer of the tax collector's office, where the incumbent has not been a customer other than to pay her tax bills. I use this office often, so my interaction with the tax collector's office as a customer is daily, so I have a feel for what the customers want."
For more information, visit www.petecarney2012.com.