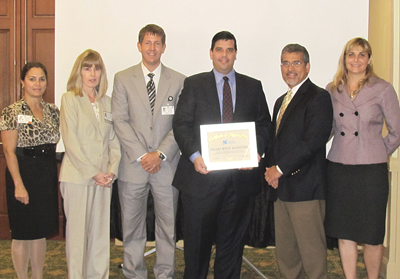 Dr. Moises Virelles of Palms West Hospital was the guest speaker at Monday's Central Palm Beach County Chamber of Commerce luncheon held at the Binks Forest Golf Club in Wellington.
This luncheon also featured a presentation of certificates to the graduates of Leadership Palms West 2012.
Mary Lou Bedford, the chamber's marketing director, announced that the program would now be called Leadership Central Palm Beach, in light of the recent merger of the Palms West and Greater Lake Worth chambers of commerce to create the Central Palm Beach County Chamber of Commerce.
Participants of Leadership Palms West complete a comprehensive educational program designed to allow them a broad overview of the local economy and government. "We started it in 1995, and since its inception, we have graduated over 450 class members, and these leaders have been making strides in the county and our communities," Bedford said. "I know that this class as well will definitely be doing the same."
Bedford expressed her appreciation for this year's graduates. "It's a great class this year, and we did some really amazing things, and are very excited that you were all a part of the program," she said.
Bedford, along with Chamber Membership Services Manager Jessica Clasby, presented the certificates to the graduates.
The Leading by Example Award, which is chosen among the graduates, was given to William Brasmar of KPA Promotions. "This person is a true leader in our community, and is always leading by example in whatever they are involved in," Clasby said. "We are very blessed to have him as a chamber member."
Virelles gave a presentation on Palms West Hospital's robotic surgery initiatives.
Virelles specializes in obstetrics and gynecology, and received his medical training from the Universidad de Mexico in Guadalajara and the University of Maryland School of Medicine.
Virelles gave an overview on the new da Vinci robotic surgery equipment, which he uses on his patients. What's unique about the system is that the patient and the surgeon are in separate areas during surgery. The surgeon sits in an area where he is able to get an improved view of the patient.
"This allows the surgeon to get a high-definition and 3D view, much clearer and better than in any other surgical field or visualization method that we have," Virelles said.
For Virelles, his fascination with minimally invasive surgical procedures is due to its many successful factors. "It gives me the ability to do minimally invasive surgery through small insertions, with less pain, complications and quicker turnovers," he said.
Three years ago, Virelles and a team of doctors at Palms West Hospital were given the opportunity to try out the new da Vinci system. "In the beginning, we were skeptical, although we were getting good results," he said. "The questions were how is this going to make me be a better surgeon as opposed to being able to use a very expensive surgical tool."
According to Virelles, many patients have taken a liking to the procedure, and now the hospital has two da Vinci models. The uses for them are ever-changing. "They keep changing and expanding, starting with cardiothoracic surgery," he said. "The urologist uses it for prostate surgery, and the gynecologists use it."
The gynecological uses have become increasingly popular, Virelles said. "The main diagnoses are pelvic pain, endometriosis, abnormal urine bleeding, ovarian cysts and pelvic organ prolapse," he said. "The da Vinci is a good system and alternative for repair of these conditions."
Learn more at www.palmswesthospital.com.
Above: Palms West Hospital CEO Eric Goldman, joined by guest speaker Dr. Moises Virelles and other hospital representatives, accepts a certificate of appreciation.