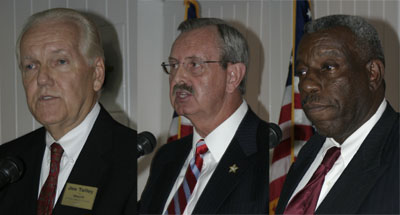 Incumbent Palm Beach County Sheriff Ric Bradshaw was joined by challengers Joseph Talley and Cleamond Walker as guest speakers at Wednesday's Wellington Chamber of Commerce luncheon at the Wanderers Club.
The candidates will face off in the primary election Tuesday, Aug. 14. If one candidate gets more than 50 percent of the vote, he will be elected. If not, the top two vote-getters will advance to the November general election ballot.
Talley, a 14-year Wellington resident who was with the Baltimore County Police Department for 22 years, the last six as a major, said he sees a need for reform in the Palm Beach County Sheriff's Office.
"My time in law enforcement was blessed in that I was in a fair, open, honest agency where I was given many opportunities on a level playing field to be assigned and promoted without bias or having to do anything in a political arena to get attention drawn to who we were," he said.
Talley spent five years in the PBSO's reserve unit, advancing to the rank of lieutenant. In that experience, Talley said he learned that politics and special treatment are rampant in the department.
"We found that there was dysfunction and distraction among so many, that decisions were made about special assignments and jobs that were coveted among members of the agency," he said. "Most people don't want to drive a green-and-white their entire career. They want to be a detective or K9, one of those special jobs, and they want a fair playing field in order to get those special positions, and I saw that that wasn't the case."
Talley added that the PBSO's half-billion-dollar budget is also of concern to him. He wants the public to have more information on how that money is spent. "It should be online, like many sheriff's offices do, and it should be readable," he said.
As sheriff, Talley said he would invite oversight by the county's Office of the Inspector General. "There is no reason on earth that an elected sheriff should deny the people who voted for the inspector general to have that oversight," he said.
He is also dismayed that the PBSO does not have national accreditation. "It's not nationally accredited, which is the gold standard for all law-enforcement agencies in the country," Talley said. "It could not be nationally accredited as it stands today because of the personnel issues I alluded to and many other things that are taking place or not taking place in the agency."
Talley said he would also increase supervision at the street level as well as service at the street level in order to reduce response time and increase the percentage of case clearances. "For a half-billion dollars and all and the people working there, the case clearance rate is abysmal," he said, asserting that the 20 percent clearance rate is well below the national average.
Talley said he is also concerned about recent shooting incidents by deputies in Loxahatchee Groves and Boynton Beach, and the incumbent sheriff's response to them. "This has divided the sheriff's office with the public, the community that it is supposed to be serving," he said. "One of the things that I think is most evident is a bullying or intimidation that seems to be taking place from the top down."
Rather than blindly backing the deputies, the sheriff should set up a fair process to evaluate all the facts, Talley said. "We back [our people] by showing fairness, openness and saying there is going to be a fair and objective query into what took place," he said. "What has happened is a chasm, a division between the sheriff's office and the community. There is a distrust; there is a fear."
Bradshaw, who has 40 years of law-enforcement experience, rose through the ranks of the West Palm Beach Police Department and in 1996 was appointed chief of police. On Jan. 4, 2005, he was sworn in as the elected sheriff of Palm Beach County.
Bradshaw, currently running for a third term, said that it is unfortunate that people who don't have a lot of leadership experience turn to the "politics of personal destruction."
"It's like Chicken Little — the sky is falling and I'm going to save you," he said. "Folks, the sky ain't falling, not even close."
Bradshaw said the election is really about demonstrated leadership experience. "It's about a proven track record of what this agency has done over the last eight years," he said. "The proof is there. This is the second agency that I have been a leader of. The first was West Palm Beach for eight years. We took it to a place where people respected that agency. After almost eight years as your sheriff, we've taken this agency to a place of respect, not only in this community but in the state."
Bradshaw cited the PBSO's gang initiative as the foremost example of the department's effectiveness. "Nobody in this state, let alone this community, has done as much to fight gangs as your sheriff's office," he said. "That's why when it came time to call on a regional gang unit of Dade, Broward, Palm Beach and Monroe counties, the state looked to us to be the lead agency."
The U.S. Bureau of Justice Administration recently featured the unit as one of the 10 organizations in the United States on how to fight gangs with intelligence, with a solvability rate much higher than was cited by Talley.
On the pill mill front, the PBSO did the largest investigation in the Unites States, Bradshaw said, which resulted in the PBSO being at the hub of a state regional pill mill task force. "They followed our model," he said. "I'm the chairman of the entire region for that. We're about 75 percent through eliminating these pill mills that are killing our kids."
In the area of Homeland Security, the PBSO is the lead agency for all of South Florida. "I was appointed as the chairman of all of domestic security, another leadership role. Why? Because the agency had the expertise to do that," he said. "Everybody looks to us for leadership roles because of how we do things and our expertise."
Regarding Talley's assertions on national accreditation, Bradshaw said it is an unnecessary, expensive process. "It's redundant, it's the same standard, except it's expensive," he said. "It's the same set of standards. It's crazy to do that."
Bradshaw pointed out that the Police Benevolent Association has endorsed him. "If there's a problem in that agency with employees, don't you think that they would be on somebody else's side?" he asked, pointing out that the employees are part of the PBSO promotion system. "The agency has a fantastic track record of what we do to make you safe and your families safe," he said.
Walker, a truck driver on his fourth run for sheriff, said he has lived in Palm Beach County for 32 years. "In those 32 years, I raised a family, had five new cars, sent my children off to college, gone to the Navy. Palm Beach County has been really good to me. As sheriff, I want to give something back to Palm Beach County."
He said he has watched Palm Beach County's widespread growth during that time. "We're one of the richest counties in the State of Florida," he said. "I hope that by my being the next sheriff of Palm Beach County, I will prove to you that I am worthy of the job."
One of his primary areas of focus will be on fighting drugs, not just street-level drugs, but focusing more on large dealers.
Walker is also concerned about the budget, not just in Palm Beach County. "This is something that all of us have to focus on," he said, pointing out that the state has passed laws requiring state and local employees to pay into their own retirement system, which he said has been of benefit to state and local agencies.
Walker said that the PBSO budget of almost a half-billion dollars is not a lot for a county of this size. "Palm Beach County is a big county and needs every dollar in the sheriff's budget and more," he said. "The only way to reduce it is your employees' salaries… I don't plan on cutting salaries, but as sheriff, it will be very bad if I don't do anything about it, so I plan on doing something about it."
He said top administrators in the agency make a lot of money. "We all know that," Walker said. "As sheriff, I'm going to delete those positions, and probably promote those young kids coming out of college to have those jobs… Tax dollars cannot continue to be in the heavy top administration. The people with 30 years on, they need to retire. We cannot afford to continue to pay these salaries. I'm going to look at that, and we all know that that has to be done."
Above, L-R: Joseph Talley, Sheriff Ric Bradshaw and Cleamond Walker at the chamber luncheon.