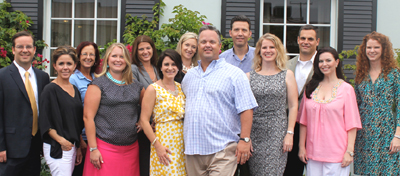 The Cystic Fibrosis Foundation is gearing up for the 2012 Arthur's Jam "Wipeout Cystic Fibrosis" set for Saturday, Oct. 13 from 7 to 11 p.m. at Lake Pavilion on the Waterfront (101 S. Flagler Drive, West Palm Beach).
Attendees can arrive by land or sea. The event will include heavy hors d'oeuvres and an open bar for an expected 200-plus guests, short program, dancing to live music, bidding on exclusive auction items, and the opportunity to mix and mingle with other guests. Ashley and John Schutz will serve as committee chairs, the guest caterer for this unique event is C'est Si Bon, and the Feeder Band will provide the evening's live entertainment.
Arthur's Jam was founded in 1995 by friends of Arthur Weiss as a way to commemorate his life while raising funds for the fight against cystic fibrosis. Proceeds from the event will help fund research that will one day lead to a cure for CF, and will improve the quality of life for those suffering from this fatal disease. Over the past 16 years, Arthur's Jam has raised over a million dollars for research and science to fund a cure for CF.
Tickets cost $100 per person, and sponsorships are available.
For reservations, information on sponsorships, or to make a donation, contact the Cystic Fibrosis Foundation at (561) 683-9965, e-mail mfogg@cff.org or visit http://palmbeach.cff.org/arthursjam.
Cystic fibrosis is an inherited chronic disease that affects the lungs and digestive system of about 30,000 children and adults in the United States.
Since 1955, the Cystic Fibrosis Foundation has been the driving force behind the pursuit of a cure. Thanks to the dedication and financial backing of supporters — patients, families and friends, clinicians, researchers, volunteers, individual donors, corporations and staff — the foundation is making a difference.
For additional information, visit www.cff.org/chapters/palmbeach.
Above: Arthur's Jam committee members Guy Quattlebaum, Amy Quattlebaum, Amy Bernard, Kate Morris, Abby Beebe, Ashley Schutz (co-chair), Sunni Johnson, John Schutz (co-chair), Jeremy Walter, Christine Walter, Britton Core, Shani Core and Kelley Bastien. Not pictured: Hampton Beebe, Michele Henry, Jennifer Lazzara, Brooke McKernan and Nacho Reyes.