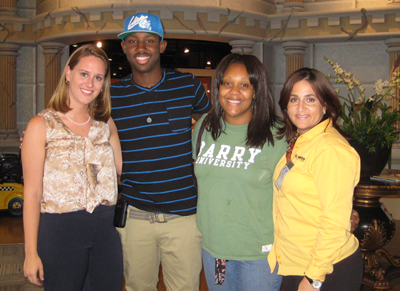 Quantum House, a hospital hospitality house in West Palm Beach, had the opportunity to work with El Dorado Furniture to nominate three families who each received $5,000 and expert furniture advice from El Dorado.
Quantum House worked with other local nonprofits to choose three deserving families.
Together, the organizations met and assessed the needs of Bebe St. Juste of West Palm Beach, Joshua Johnson of West Palm Beach and Curletha Campbell, past Quantum House guest, of Port St. Lucie and their families. Once they were selected, all of the families had the opportunity to shop at El Dorado with a decorator to choose the best options for their homes.
Campbell and her 17-year-old son Ashton were all smiles when shopping for furniture. Now that they've chosen their furniture, Campbell said it's all she can think about.
The Campbells first met Quantum House staff when the family stayed at the house while Ashton received cancer treatments at St. Mary's Medical Center.
"We are honored to be a part of this anniversary event and so happy to nominate such deserving families," said Robi Jurney, Quantum House's executive director.
El Dorado's partnership with Quantum House made perfect sense. Both organizations are committed to their community and to making sure families have a comfortable place to call home, even during hard times.
"There is nothing like gathering around the dinner table with your family or a restful night on a good mattress," said Pedro Capó, chief operations officer of El Dorado Furniture. "Yet many in our community don't have these comforts."
"We said the best thing we could do is actually go out there and help the families who really need to have a place to sleep and eat and be a family to begin with," Capó said.
El Dorado celebrated with the selected families, sponsors and community partners on its anniversary, June 27 at its Palmetto store.
Quantum House is a caring and supportive home that lessens the burden for families whose children are receiving treatment in Palm Beach County for a serious medical condition.
The 10-suite hospital hospitality house provides lodging, meals, care and compassion to more than 500 family members each year.
Quantum House is the only facility of its kind between Fort Lauderdale and Orlando. For more information, visit www.quantumhouse.org.
Above: Laura Belcher of Quantum House, Ashton and Curletha Campbell, and Carmen Crucet, merchandise leader at El Dorado Furniture.