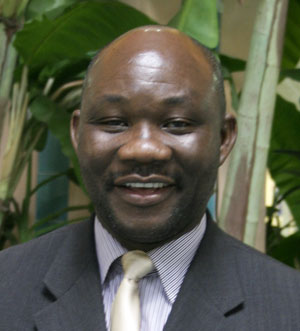 Former Palm Beach County Supervisor of Elections Office employee Caneste Succe is running for the office's top job in order to stamp out corruption and ensure that every vote is tallied.
Succe is running against incumbent Supervisor of Elections Susan Bucher and fellow challenger Delray Beach Mayor Nelson "Woodie" McDuffie in the Aug. 14 primary election. Write-in candidate Maxo Marc is also seeking the post.
Succe, 49, was born in Haiti. When he was 18, he moved to Lantana, where he has lived for 30 years. He has a bachelor's degree in political science from American Intercontinental University and also studied at South Tech Academy. He worked for 13 years as an aircraft mechanic at Palm Beach International Airport.
Succe worked in the corrections department at the Palm Beach County Sheriff's Office for seven years, and also spent four years at the Supervisor of Elections office under Dr. Arthur Anderson. He left that job shortly before the 2008 election.
"I used to do youth outreach," Succe told the Town-Crier. "I would go to universities and high schools to do workshops and try to get the youth to vote."
Succe started the Good Shepherd Humanitarian Corp., a nonprofit aimed at combating gang violence. "We were the first ones in the area who addressed the gang violence," he said.
Succe is still heavily involved in his church and his community, helping to counsel troubled youth, among other activities.
"I have a lot of respect in my community," he said. "I love to help people. I feel that working with the youth is the most important. I want to teach them so they can have a better county, a better community and do better for themselves."
Succe ran twice for Lantana mayor in 2003 and 2009, unsuccessfully — however, outcomes that he believes were caused by errors in the supervisor's office. According to election records, he lost those races by a wide margin.
"I was a little guy," he said. "No one paid attention to me. When people sent in their absentee ballots, they threw them away."
He said he chose to run for office to make sure the public's vote is counted. "I want to make sure everyone's vote is counted," Succe said. "I am very upset about the problems there have been in the past."
If elected, Succe said he would work to make sure that the candidates who voters choose are declared winners. "I'm the only one who can fix the problem," he said. "If a person gets the votes, they should be the winner."
Though he does not have much name recognition, Succe said he is working hard to get himself out there. "I have been knocking on doors and speaking to people," he said. "I feel like God chose this for me. He knows my heart."
Succe asserted that there is a lot of favoritism in the office, something he would like to change if elected. "I would have zero tolerance," he said. "I would train every employee who works for me. Right now, there is favoritism. They only train certain people."
He said he would also like to upgrade the equipment, and work to find better, more reliable software.
"I have spoken to five software companies in Florida," he said. "We are the worst county who always has problems when it comes to the election. The way to stop that is by choosing the best company to do the job."
But it's not just software that is the problem, Succe said. He asserted that the computer equipment also needs to be better maintained.
"I would make sure we are using clean chips," he said. "We need to make sure they are in good condition when it comes time for the election, and that the machine is upgraded. They have been there for so long, they need to be changed. We need to change the entire system. We need to go to Tallahassee and… make sure we get the right equipment with no excuses."
If elected, he would also like to make the office more visible in the community, he said. "We need to get involved everywhere," Succe said.
He also said he would like to bring the larger community together to tackle issues. "I'd like to form a committee and combine all the cities in one seminar so those who want to can speak up about the problems they have in order for us to fix it," he said.
Succe said he does not believe the Palm Beach County Inspector General should have oversight of the office. "I'm the one in charge," he said. "I'm the one on the inside to see the problems."
He addressed allegations that he was simply running as a disgruntled former employee. Succe said he left the office in October 2008 after issues with a co-worker made him feel that voters were being disenfranchised.
"I was working in Belle Glade registering people to vote," he said. "When I got back, I put all the voter registration forms on my desk, and no one ever touched them."
Succe said that he had an issue with a co-worker when he went to try to enter the voters into the system, which resulted in deputies being called.
"They didn't speak to me," he said. "I went home. I wanted to do the right thing, but I felt like there was so much corruption. It's all who you know in Palm Beach County. I tried to work for the office, and they treated me like that. It's very corrupt and needs to be cleaned."
He said the experience changed him. "I'm not the same person I used to be," Succe said. "I have been changed from the past. Sometimes God puts you through things so you have more experience."
He would not have tolerance for similar "corruption," he said.
"If you don't clean up the office, you're never going to have a good election," he said. "You need to work from the inside to fix the problems. Everybody has problems; you need to know how to figure out what the problems are in order to work comfortably as a team."
Succe said he is an honest man who is working hard to stamp out corruption.
"I know I can do a good job," he said. "It takes someone who can do the job and who knows that what they are doing is for the community, not for themselves. I will be like a bridge. Everyone who wants to step on me can."
For more info., visit www.canestesucce.com.