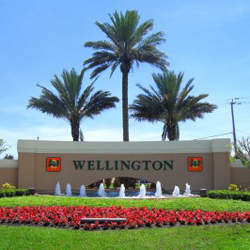 The Wellington Planning, Zoning & Adjustment Board unanimously recommended approval this month of a cocktail lounge designation with extended hours for the Grille Fashion Cuisine on South Shore Blvd.
At a meeting July 11, board members recommended approval of a conditional use permit that would allow the restaurant to have a liquor license within 250 feet of residences.
The measure also extended the restaurant's hours of operation, from 11 p.m. to midnight from Monday through Wednesday, and from 11 p.m. to 2 a.m. Thursday through Sunday.
The Wellington Village Council is expected to hear the item Tuesday, Aug. 14.
Director of Growth Management Bob Basehart explained that though the business had received approval for a liquor license from the state, "we don't enforce the liquor laws. Our interest is the enforcement of the code. The code says that in commercial portions of the [village] you can have a restaurant."
Wellington cannot sign off on the liquor license without special approval from the council.
"We cannot sign off on a liquor license that would allow operation of a cocktail lounge, if that type of establishment would violate the code," Basehart said. "We were approached to sign off on the license, but because the restaurant is within 300 feet of a dwelling unit, we can't do that. We can only do so if the council grants a conditional use permit."
Restaurant owner Juan Gando said that he and his partner, Dustin Parfitt, decided to open the Grille after being successful with Oli's Fashion Cuisine.
Gando said that he was requesting the extended hours primarily to help offset Wellington's seasonal nature. "We only make money for five months," he said. "Then when it's done, it's done. You don't make money during the summer."
Board Member Elizabeth Mariaca asked whether Wellington had gotten feedback from nearby residential communities. Staff liaison Olga Prieto said she has received only one comment of opposition from a nearby resident.
Board Member Mike Drahos noted that the process to get a liquor license is difficult and asked whether the Grille had obtained its license from the state.
Village Attorney Jeff Kurtz said that they had. "There are a couple of types of liquor licenses," he said. "There is a lottery where they are available for sale. So, there is a cash purchase generally involved."
Kurtz explained that restaurants operate under a separate license that allows them to serve liquor only while the kitchen is serving food. Additionally, at least 51 percent of their income must come from food.
A cocktail lounge designation, he said, could allow the Grille to make more of its income from liquor.
"In this case, the applicants have come in and are requesting a conditional-use permit to be considered a cocktail lounge," Kurtz said. "Once they are dedicated as a cocktail lounge, they are free to disregard the regulations associated with being a restaurant."
Kurtz noted, however, that the board has the ability to recommend conditions of approval. He pointed to the Players Club, which he said has village-imposed conditions despite its license. "They comply with the [restaurant] regulations, so they are considered a restaurant," he said.
Board Member Carol Coleman expressed concern that the restaurant had already run into issues. "I'm very concerned by the fact that this restaurant was investigated from November to December last year," she said.
But Basehart said that going through this process to become a cocktail lounge would enable them to fix those issues.
"We have to keep in mind that if the applicant believes they can operate within the boundaries of a [restaurant designation], they can withdraw their application and there is no problem," he said. "The reason we are here tonight is because they asked for the ability to have a license that does not require them to meet restaurant standards."
Gando said that the previous issue was caused because of the holiday season, with guests ordering more liquor for parties and other events.
Board Member Marcia Radosevich asked about the guidelines for compliance. "Is that monitored daily?" she asked. "Do they have to be in compliance for all 12 months?"
Basehart said that although Wellington does not do the monitoring, he understood that the state would cite them. "If a monthly audit shows you have not met the requirements, you get a notice of citation," he said.
Kurtz agreed. "There is a hearing process, and you have the potential to lose your license," he added.
Coleman asked about whether there were regulations for hours of operation imposed on restaurants.
Kurtz said that there are. "As a restaurant or a cocktail lounge, you still need to come before the council, in this case because of the location, and get permission to operate beyond 11 p.m.," he said.
Basehart said that this was to protect residential areas. "The intent of those provisions is that when we have a commercial operation that is very near a residential area, there is a potential for noise and other issues," he said.
Coleman said that noise has been a concern for her as well. "There is no outdoor entertainment being requested, is that correct?" she asked.
Kurtz said that there was not, and that the board could impose a condition of approval that there could not be outdoor entertainment.
Basehart said there had been only two complaints about noise. "There have been two separate complaints, and there have been several incidents when code officers have gone to the site in the evening," he said.
Board Member Paul Adams said he was in support of the project but thought it should serve food all night. "I don't see a large outpouring of opposition from the public," he said.
Gando said he would be willing to work within the conditions imposed by the board. "I will take care of anything you ask," he said. "I will still serve food. I will still work under the [restaurant] limitations. I won't have entertainment outside."
Drahos made a motion to approve the cocktail use designation and extension of hours of operation with several conditions: The Grille would have to continue to serve food while it serves liquor; it must abide by all of Wellington's noise restrictions; and it cannot have outdoor entertainment.
Additionally, Drahos said that the approval was not transferable if they were to sell the restaurant, and that failure to comply with any of the conditions would subject them to code enforcement penalties such as monetary fines or revocation of the permit.
The motion carried 6-0, with Vice Chair Tim Shields absent.