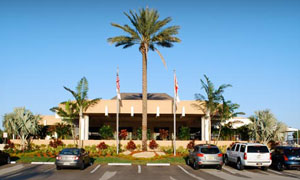 The Wellington Village Council will discuss final issues regarding the rebuilding of the Wellington Community Center at a workshop Monday, July 16, before the project goes out to bid.
The 2 p.m. meeting will give council members a chance to decide how much direction to put in the bid before potential builders have a chance to pitch their ideas.
Last year, the former council directed staff to knock down and rebuild the community center rather than renovate the building.
The Wellington Community Center is more than 30 years old and was originally the Wellington Club East, a private country club. Although the building has been retrofitted several times since the village purchased it in the late 1990s, it was not designed to be a community center.
The building's steep entryway has been an issue of contention with seniors and residents with disabilities.
Last September, residents got a chance to provide input on what they'd like to see as far as programming in the new building. Many seniors turned out, asking for more consideration in the process.
Director of Operations Jim Barnes told the Town-Crier Wednesday that one of the key issues Monday will be whether to direct bidders to put the large meeting hall on the first or second floor.
"They have to decide how much information, design-wise, will be in the bid — not only in look and feel, but in the placement of rooms," he said.
At the public hearing last fall, seniors overwhelmingly called for the meeting hall to be put on the first floor in order to provide better access. But Barnes noted that nothing has been set in stone.
"There isn't a plan," he said. "The study [presented in September] was more for programming. It didn't determine a layout or a plan."
Barnes said council members would have to decide whether they want to make the decisions on where to put things or let bidders come up with solutions.
"When [the new village hall] went out to bid, the project didn't specify where the council chambers had to be," Barnes said. "The bid included uses and a general need for space, but it didn't specify where to place them."
He noted that past council members voted to put the job out to bid using the "design/ build delivery" method, but that the new council could choose another approach. "It may be that they give us direction to bring it back to certain groups or committees for input before it goes to bid," he said.
Although the workshop is open to the public, Barnes said that typically, workshops do not include time for public comment.
After the workshop, Wellington council members will hold a special public meeting beginning at 4 p.m. to address an appeal by A1A Tennis regarding management of the Wellington Tennis Center.
Above: The current Wellington Community Center.